The tale of this dish is quite special to my family. This dish first wooed my dad's heart when my grand mom cooked for him on his first day at my mom's place. It played the magic to win my husband's heart for my mom's culinary skills.
The dish is an all time favorite among all the member's in my family. It's a Punjabi inspired dish, but made in a different way altogether by my Grandma a.k.a Bou. She used to be the master chef, whose charms in the kitchen always made her a real time Master Chef.
She used to make loads of typical variations of Odiya dishes and lots of fusion of Andhra and Punjabi cuisines because of her multi state neighbors. Will talk about her in later articles of mine. Talking about her makes me emotional, her loss has never been filled in these 2 years. This signature dish of hers is my new homes favorite. My husband is so proud of this dish that any time we invite someone for lunch or dinner, he makes sure I include this dish in my menu.
The recipe for Bharwan Bhindi/ Gotta Bhendi / Okra stuffed with Chili Garlic goes like this: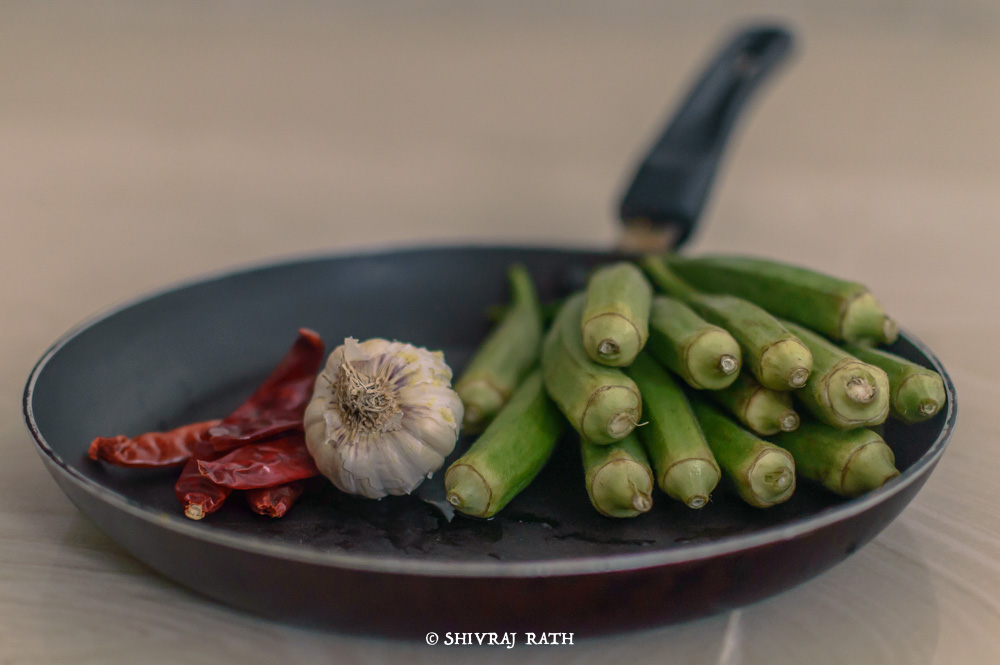 Ingredients
Okra / Ladies Finger – 250 gms
Red chilies – 5-6
Garlic – 12-13 medium cloves or 1 whole
Salt
Steps of Preparation:
In the mixer, grind the red chilies and Garlic cloves. Make sure you don't add any drop of water and it's like the crushed chilies with crushed garlic.
Add the 1 tbsp of salt to the paste.
Wash the Okra/ Ladies finger and make a slit in one face of it, ensuring it stays whole.
Heat a pan, add 1tbsp mustard oil, preferably, else if you don't have mustard oil, vegetable oil is well and good.
After heating the oil in the pan, stir fry the stuffed Okra till it's cooked.
The spicy crispy Bharwan Bhindi is a great company with Dal Rice or if you are doing it in an Odiya way .. "Gotta Bhendi Bhaja pakhala saha bahut Bhala lagiba". It's a great company to the South Indian's favorite curd rice as well. Try it !! It's gonna make you love it forever,
Gotta Bhendi Bhaja/ Bharwan Bhindi/ Okra stuffed with Chili Garlic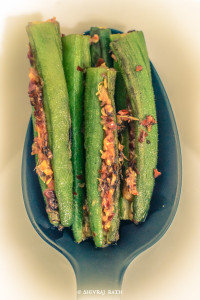 Bharwan Bhindi is a north Indian dish. The spicy filling makes the Okra yummy. This dish is variation from the original as it's my grand mom's way ! Try it ! You will love it !!