Some recipes are very special. They are like small memories in the courtyard. Dahi Baingan (Eggplant in yogurt sauce with a tinge of mustard) is something of that kind. It's like family legacy: your grand mom cooked it in some process, your mom in some way and you have so many variations that you can write uncountable stories associated with the discovery of slightest variation.
This side dish is served as a slightly soured-sweet variation with the mustard flavoring. This is famous in Odisha and West Bengal and have a strong element in the cooking i.e. Mustard paste which makes the cuisine differently flavored.
This recipe has a great connection with my life. It made me uniquely identified at my in-laws place. My father-in-law and mother-in-law are a great admirer of this dish of mine.
The Dahi Baingan recipe goes like this: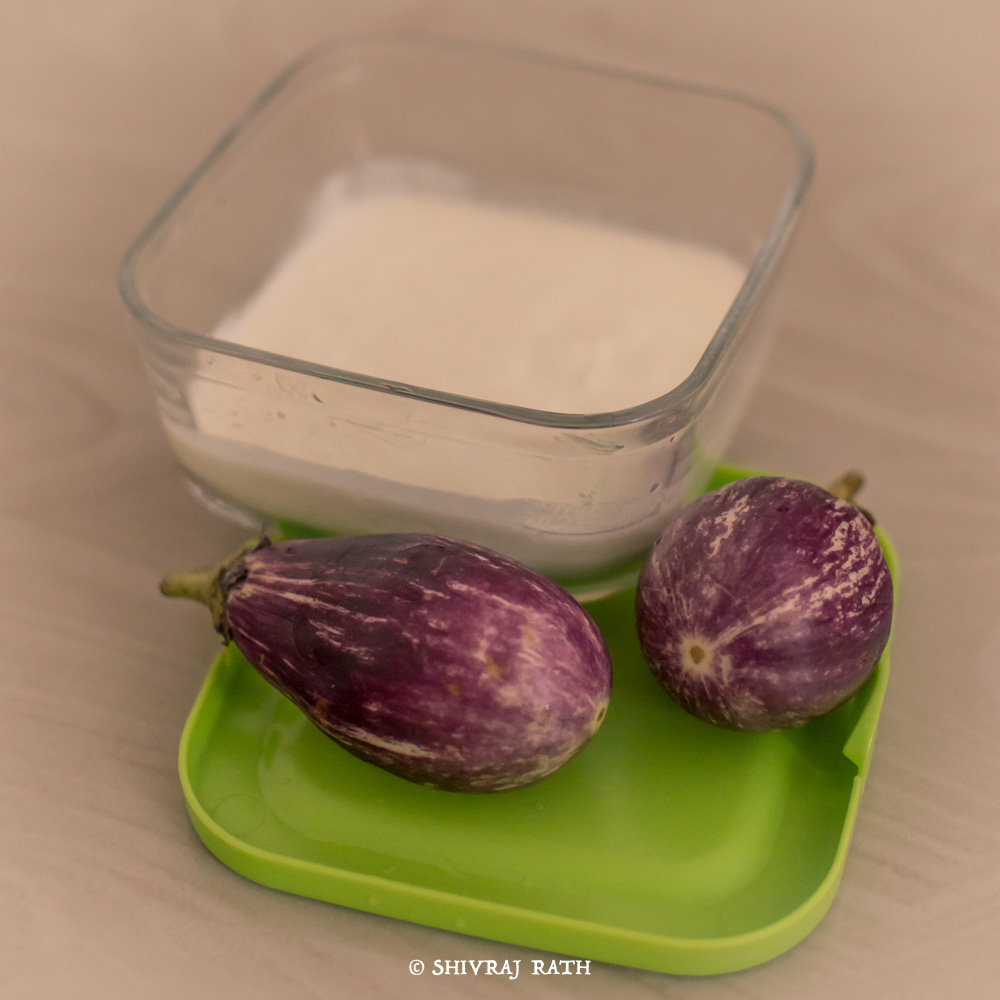 Ingredients:
Curd – 150 ml
Curry Leaves – 1 stick
Garlic – 3-4 big cloves
Mustard Paste – 1 tsp
Green chilies – 2-3 pieces
Mustard seeds- 1 tsp
Brinjal or Eggplant – 5-6 small sized round ones
Vegetable Oil – 2 tbsp
Sugar – 1 tsp
Coriander Leaves
Steps of Preparation of the Mustard paste:
1. Soak the mustard seeds in the water for 10 mins.
2. Finely grind the mustard seeds with water till the color is evident yellow.
Steps of Preparation:
Slit the Eggplant on one side, keeping it whole.
Shallow fry the whole Eggplant with salt till the golden color.
In another bowl, beat the curd and mix a half cup of water to mildly make it thinner.
Add salt according the taste, sugar and add the mustard paste in the curd and mix it well.
Now dip the fried Eggplant in the mustard flavored curd.
In a pan, heat the oil. Then splutter the mustard seeds.
After the spluttering of the mustard seeds add the green chilies with a small slit, crushed garlic cloves and curry leaves.
Add the tadka/tempering to the mustard flavored curd and Eggplant.
Garnish the dish with the chopped coriander leaves, it adds to the taste and color of the dish.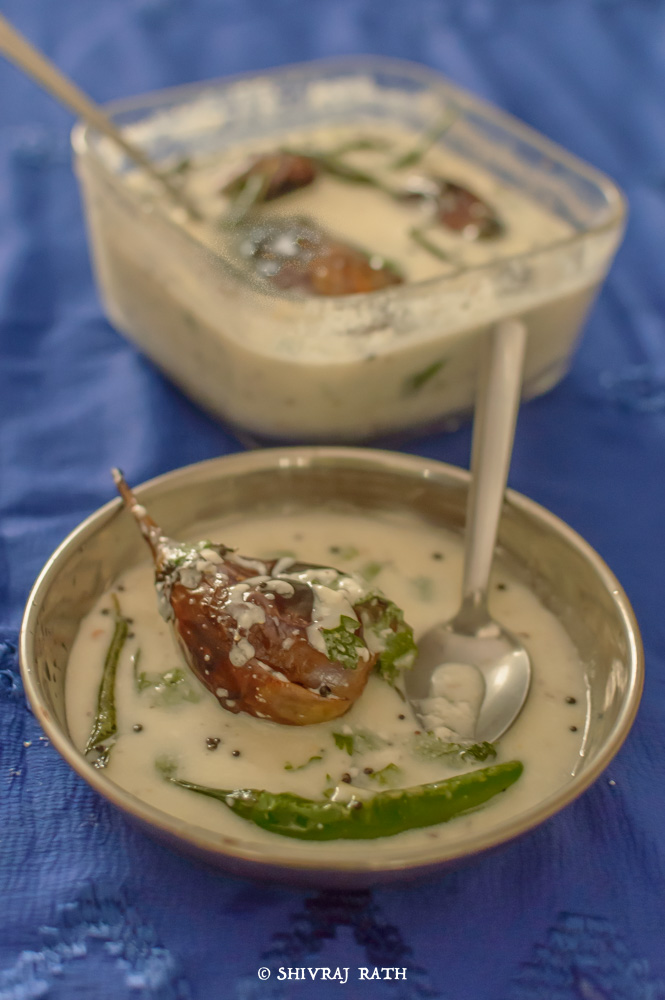 The Dahi Baingan can be served with a proper meal or individually with rice.

Dahi Baingan | Baingan ka Raita |Eggplant dipped in yogurt sauce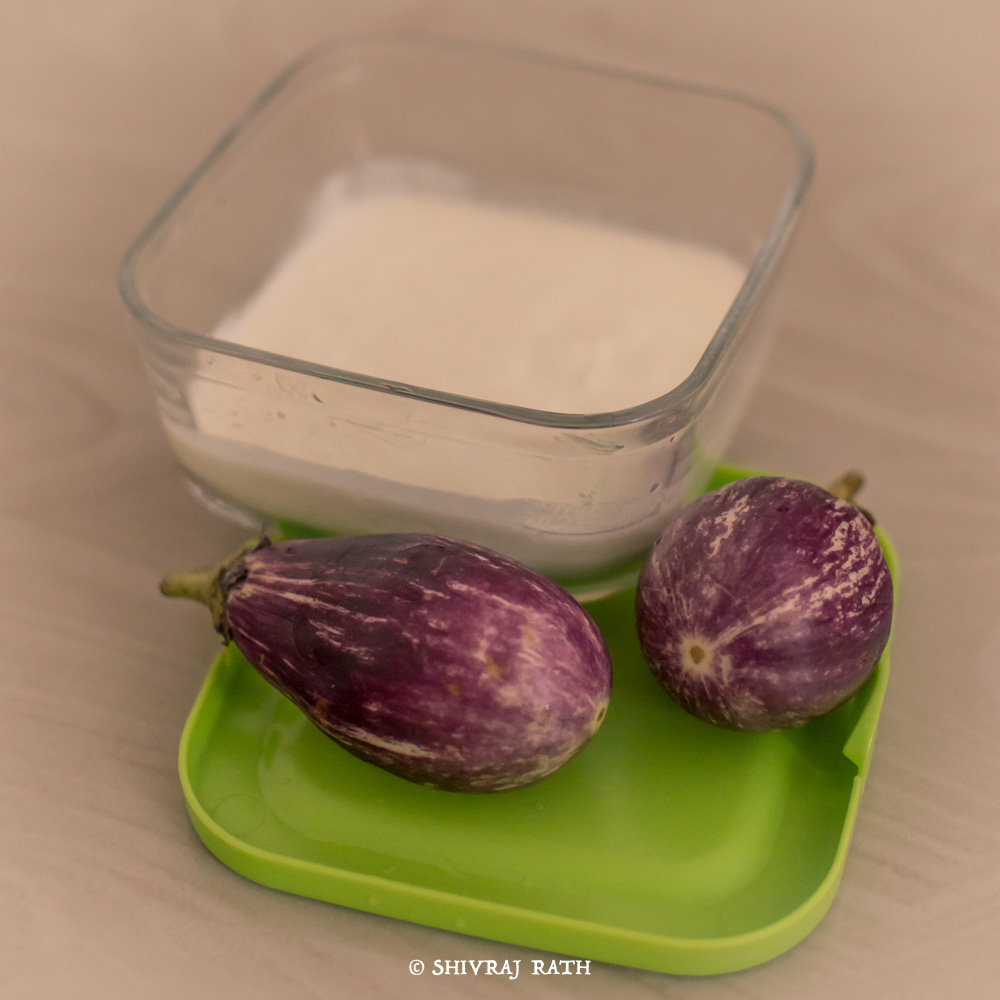 Dahi Baingan a side dish that is usually served with a Rice Platter. The yogurt's creamy texture and the pungentness of mustard adds to the beauty of eggplant (Baingan).