We had crazy fun in picking the apples this year. As the little man is growing, his interest in exploring the nature is increasing. He wants to be away from the home and have fun. And this year, he thoroughly enjoyed apple picking and was excited to see so many of them. Biting the freshest of the fruit is the joy of fruit picking. The little one was insisting on pie baking, but I wanted an easy recipe to accomplish my sweet tooth and also there was ice cream sitting on the freezer corner. So, I planned a small batch of apple crisp.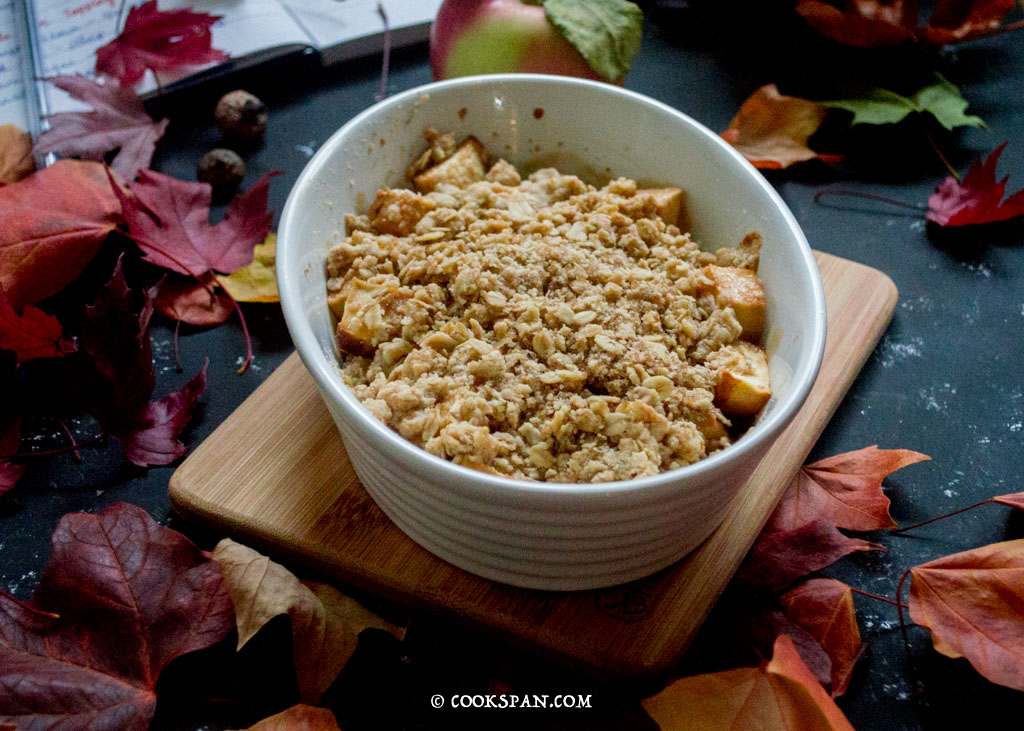 Basics of Crisp, Crumble and Pie dough:
Apple crisp is a easy way of adding the apple chunks with the basic flavors and some flours and oats to give the crisp texture. It's similar to the crumble but crumble has flour and butter sans any oats and is basically a deconstructed pie. But, no matter what pie is the beauty of baking, where the crisp and flaky dough made from the frozen butter and flour does the magic of covering the moist juicy fruit filling.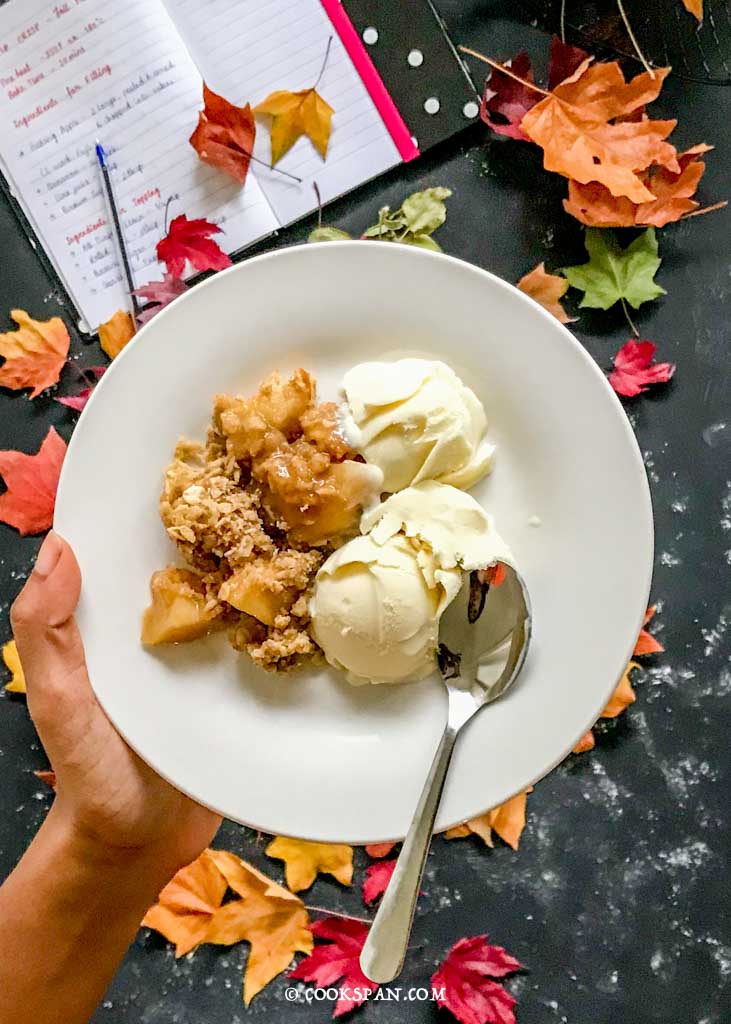 Ingredients for the Filling:
Baking Apple – 2 large (I used Fuji)
Cinnamon – 1 tsp
Lime juice – 2 tsp
Brown Sugar – 2 tbsp
Flour – 2 tsp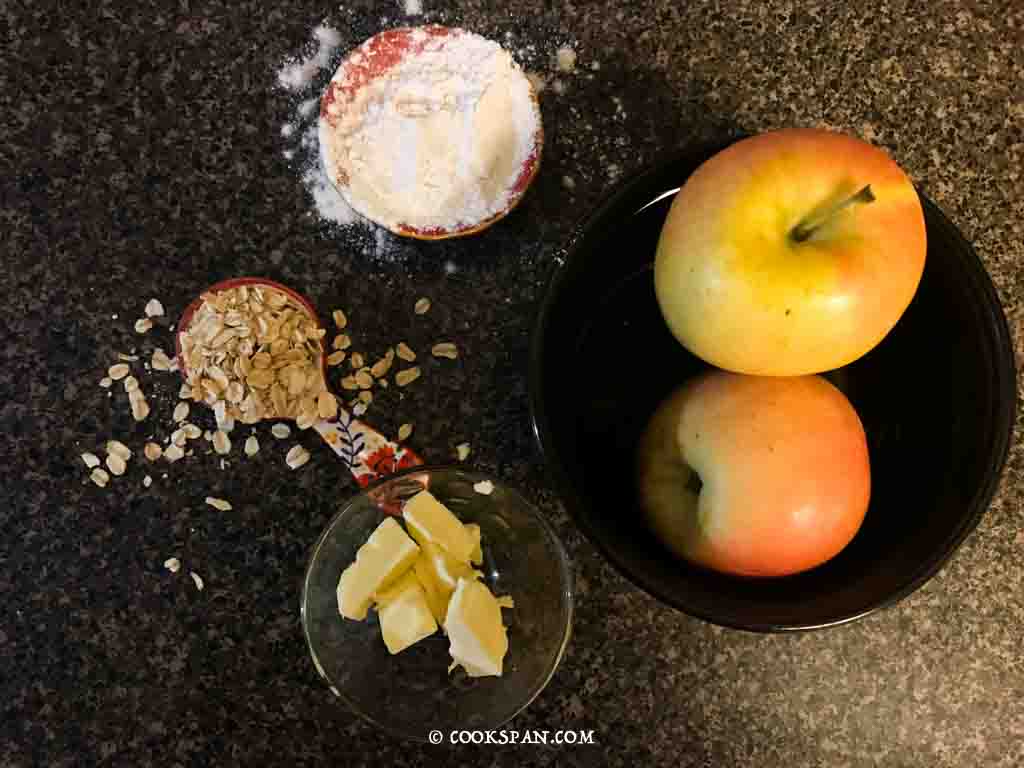 Ingredients for the Topping:
All Purpose Flour – 1/4 cup
Old fashioned Rolled Oats – 3 tbsp
Brown Sugar – 2 tbsp
Unsalted Frozen Butter – 2 tbsp
Salt – a pinch
Cinnamon – 1 tsp
OVEN SETTINGS prior to Baking:
Pre heat the Oven at 350 F or 180 deg celsius.
Steps of Preparation of Topping:
In a mixing bowl, add all the topping ingredients and mix the entire mixture.

Topping to be prepared

Mix the butter with the flour and other dry ingredients to form a crumb.

Making the topping

Freeze the topping while making the filling.

Freezing the topping
Steps of Preparation of Filling:
Peel and chop the apples to medium sized cubes.

Add all the other ingredients and gently toss it.

Ingredients for filling

The Filling
Assembling and Baking:
Grease a small baking tray with butter or cooking oil spray.

Greasing the baking tray

Add the filling to it.

Adding the filling to the baking tray

Then spread the Topping mixture.

The filling and topping

Bake it for 20-25 mins at 350 F until the crust changes to a golden brown color.

It's Baking
Enjoy the warm crisp with a scoop of vanilla ice-cream. It's a perfect delight to your autumn fun.
Apple Crisp small batch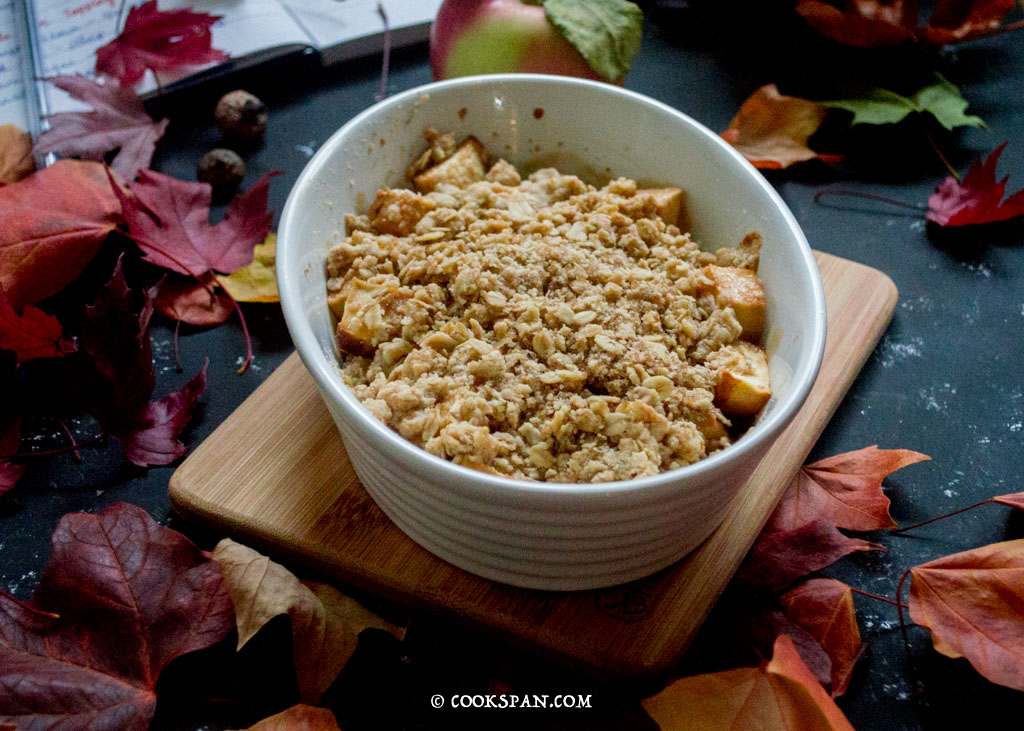 Apple Crisp is a perfect Fall Dessert with juicy apple flavored with spices stuffed underneath buttery crisp crust of oats and flour to give that extra crunch, best when enjoyed with ice cream.