We'd heard that in winters it rains in Texas, whereas it snows in other parts, coming down here in Texas we literally felt so. Winters have become really terrible with frequent rains. And going out of home with an infant looks like an absolute no. We missed out our Christmas expedition cause three of us were down with a cold. But it was compensated by marathon cooking at home. We sometimes celebrate our time with cooking and gorging on the delicacies. This Christmas was something different, after eating a lot of cookies and cakes from a week ahead, we didn't want anything sweet.
We wanted was something nice and simple. The rain frequently forced me to laze and cook something warm. Therefore, I decided to make the Bengali style Masoor Daler Khichuri or Masoor Dal Khichdi  seasoned with the garam masala to comfort us.
Khichdi is a traditional Indian dish cooked in almost all states of India with variety in seasoning, vegetables and lentils along with rice. This variation of Khichdi is also termed as Amish Khichuri or Non veg variation as Red Lentils is considered non veg for their long term association with the nitrogen fixation. It is eaten warm in winter or rainy days. The variation I prepared, is loaded with spice, but with no vegetables and is served with warm crispy Aloo Bhaja or deep fried potatoes and a simple omelette.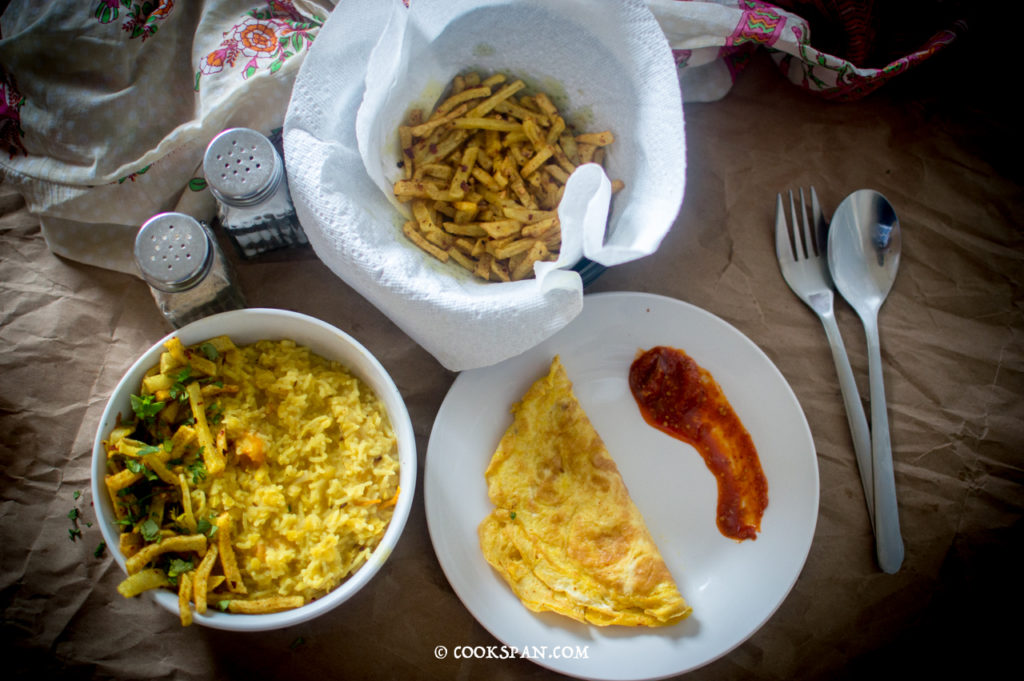 Recipe of Masoor daler Khichuri: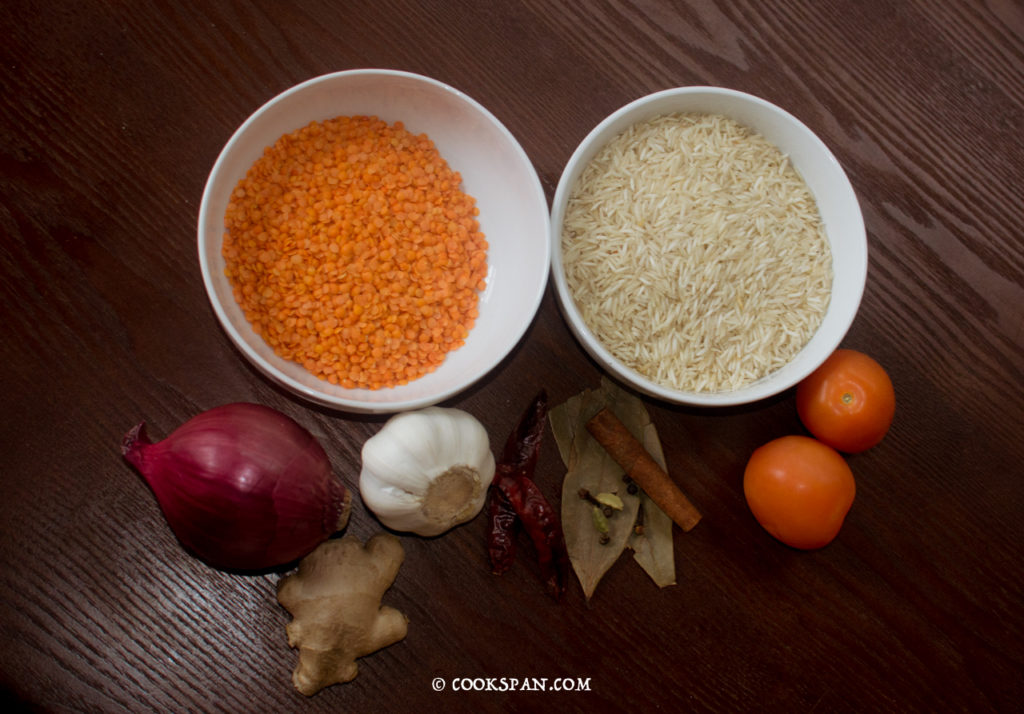 Ingredients:
Basmati Rice or Long Grained Rice – 1 cup
Masoor Dal or Red Lentils – 3/4 cup
Big Onion – 1, finely chopped
Ginger Garlic paste – 1 tbsp
Bay leaves – 2
Cloves – 4-5
Peppercorns – 4-5
Cinnamon – 1 big piece
Cardamom – 2-3
Mustard Oil – 2 tbsp
Cumin seeds – 1 tsp
Cumin powder – 1 tsp
Turmeric powder – 1 tsp
Coriander powder – 1 tsp
Red chili powder – 1 tsp
Green chilies – 2 cut into thin slices
Tomatoes – 3-4 medium size cut into slices
Dry Red Chili – 1-2 pieces
Salt – according to taste
Steps of Preparation:
Wash the Basmati rice and soak it in water for 30 mins.
Wash the Red Lentils until the water is clear.
Heat a wide bottomed pan, add the 2 tbsp mustard oil.
Into the pan, add the whole spices like bay leaves, cinnamon, cardamom, cloves, peppercorns and cumin seeds.
After the whole spices crackles, add the finely chopped onions and cook it till it's pink in color.
Add the ginger garlic paste and cook till the raw smell of the ginger garlic goes away. Then add tomatoes, green chilies and saute it.
Add the dry ground spices (cumin powder, coriander powder, red chili powder, turmeric powder and salt) to the lentils and saute it for 2 mins.
Add 3 cups of water and let the red lentils cook, cover the pan with a lid.
Once the red lentils look half cooked, add the soaked rice and cover the lid.
I was craving for a mushy version of the Khichdi, so I let it cook extra till the rice is almost done into a mashed texture and the lentils form a thick gravy kind of around the rice.
Traditionally, in Bengal the Khichdi is served with either a fish fry or omelette or eggplant fritters or thin potato sliced potato fries. So, I went according to the roots and served mine with Omlette and Jhiri Jhiri Aloo Bhaja.
Recipe of Jhiri Jhiri Aloo Bhaja: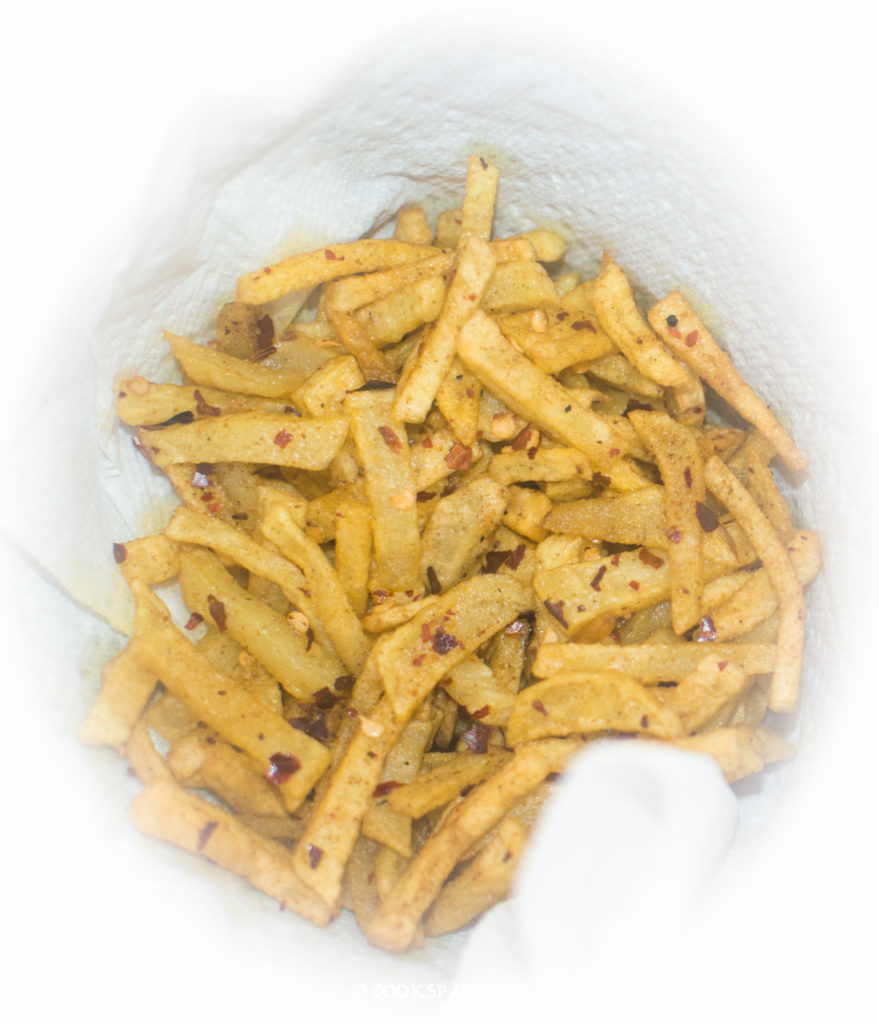 Ingredients:
Medium sized Potatoes – 2
Turmeric Powder – 1 tsp
Mustard Oil for deep frying
Chili flakes for seasoning
Black salt for seasoning
Steps of Preparation:
Wash the potatoes and peel off the skin.
Strain the potatoes just before frying and mix the turmeric powder so that it evenly coats on the potato surface.
Season it with chili flakes and black salt when the fries are hot.
Recipe for Omelette: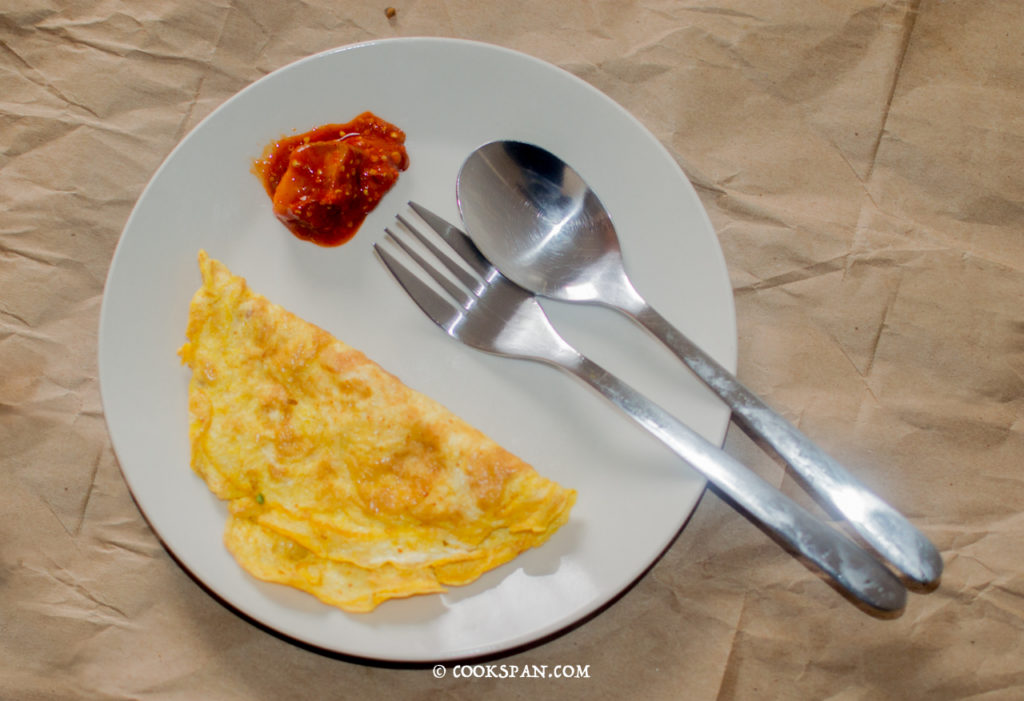 Ingredients:
Egg – 3 large sized
Turmeric Powder – 1 tsp
Salt – according to taste
Mustard Oil – 1 tbsp
Steps of Preparation:
Beat the egg with turmeric powder and salt till fluffy.
Heat a pan, add 1 tbsp of Mustard Oil and pour the egg batter.
Flip the egg Omelette, when the egg solidifies and is golden brown.
Cook the other side till golden brown.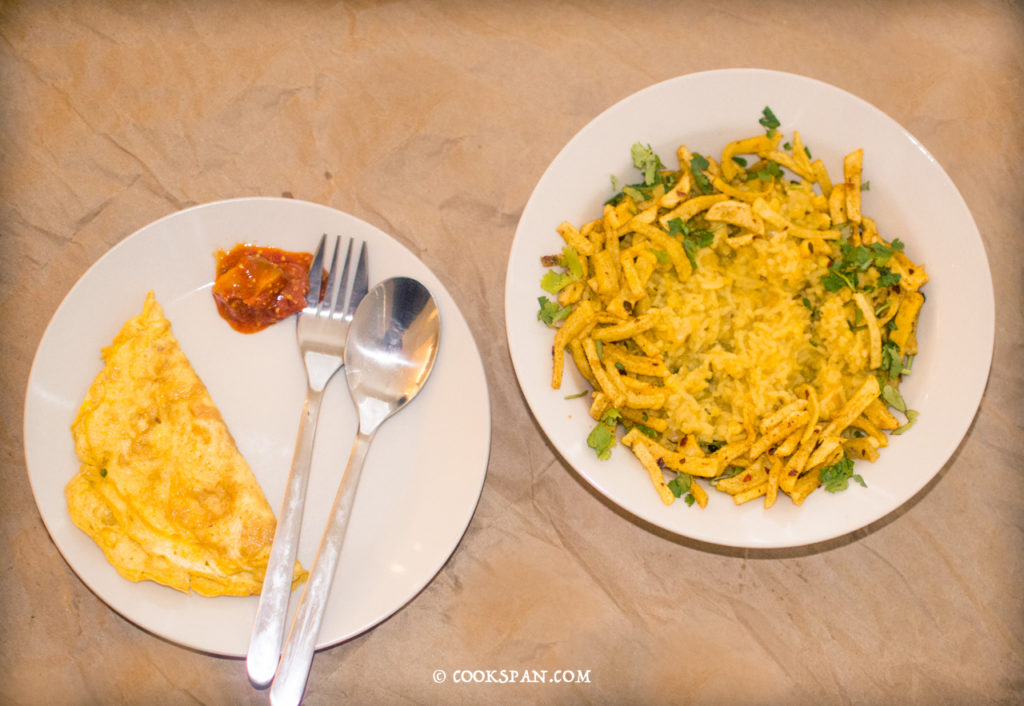 Now serve these yummy potatoes with the Khichdi and relish with pickle and Omlette. Perfect comfort food for the winter and rainy days, as it's loaded with the pungent flavor of mustard oil, which is a sure relief to a blocked nose and sore throat.

Masoor Dal er Khichuri or Red Lentils Khichdi with Jhiri jhiri Aloo Bhaja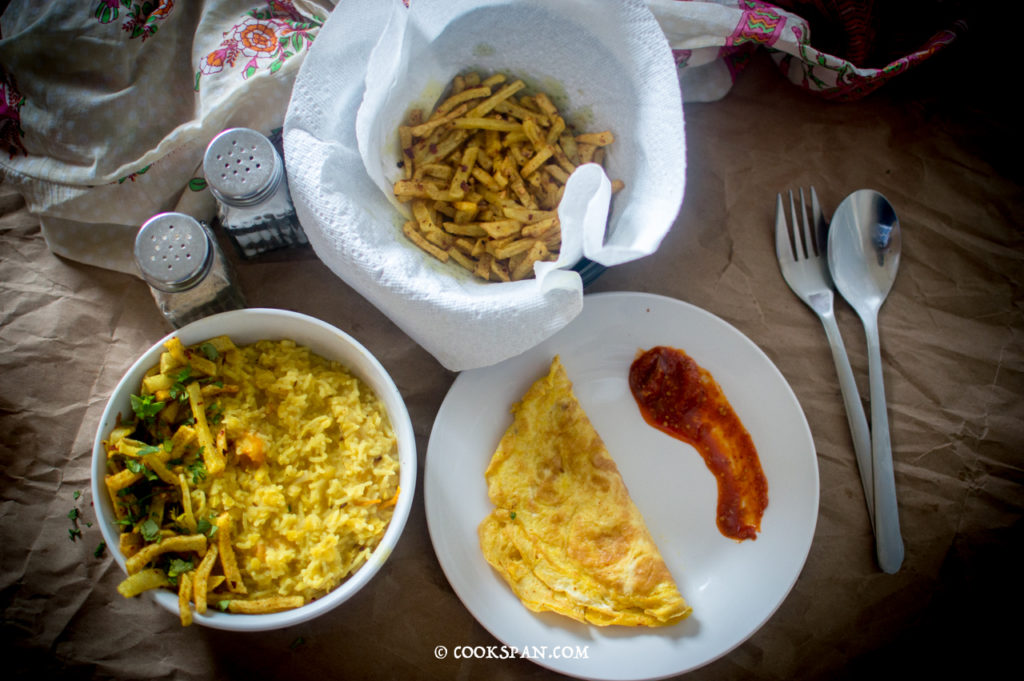 Masoor dal er Khichuri, served as a comfort food in cold weather as it's believed to keep the body warm, served with fish fry or Omlette or crisp potato fries.