Sattu Paratha | Spicy Roasted Bengal Gram powder stuffed Indian Flat Bread
Last week was really a hectic one. In a life with this speed, balancing both personal and professional lives and maintaining standards both at home and the office seems like a Herculean task. The work at the office is so much that nothing else seems to be doable. Uff !! And a normal weekend seems like greeting a thirsty person in hot desert with 2 drops of water, whose thirst increases instead of getting satisfied.
But anyways can't deny, this is a part of family life. The weekend seems like, a hell lot of tasks:
Check for Groceries and make the list of unavailable stuff
Wash clothes
Find a good movie or two to watch
Call friends .. I am getting unsocial
Need to talk to mamma and mummy
Oh the list goes on !! But the easiest and highest priority task was to grab the veggies and groceries. In the supermarket my eyes fell on Sattu powder packet. I felt like trying the Sattoo Paratha which I had sometimes before in a Marwari restaurant.
And the mood was set for the dinner to make  Sattoo Paratha.
The recipes goes like this:
Ingredients:
For dough :
Wheat flour
Salt
Ghee/Clarified butter
For Stuffing:
Sattu Powder or Roasted Bengal Gram Powder
Onion – 1 small sized finely chopped
Garlic – 4-5 big cloves, finely grated
Ginger – 1 cm long, finely grated
Lime juice – 2 tbsp
Amchoor Powder/Dry Mango powder – 1 tbsp
Ajwain or Carom seeds – 1 tsp
Green chilies – 2 finely chopped
Coriander leaves – 2 tbsp finely chopped
Mustard Oil – 2 tsp
Salt – according to the taste
Steps of Preparation:
Steps of Preparation for Dough:
Add water slowly to wheat flour and start kneading.
Knead till the dough is soft.
After it's completely kneaded, cover the dough with a wet muslin cloth and let it breathe in the air. This process makes it fluffy.
Steps of Preparation for Stuffing:
Mix the Sattu ka atta or Roasted Bengal gram flour with the Onions, garlic, ginger.
Add the green chilies, coriander leaves, carom seeds,salt and mix well with the flour.
Steps of Preparation of Paratha:
Make a large sized ball and roll it into the circle of 2.5 cm radius a look alike of small puri.
After adding the stuffing, try pinching off the excess dough after enclosing the stuffing inthecentre of the small ball.

Sattu Paratha Roll 02

Roll the small round shaped dough into the round shaped paratha.
Heat a griddle (tawa), place the rolled paratha.
Heat the paratha till bubble comes. Flip it once and let the other side brown properly.
Add 1 tsp of ghee / clarified butter and brush it to the top facing side.
Flip the paratha and repeat the previous step.
Here comes the amazing tangy Sattu paratha, ideally it goes great with Baingan ka bharta or serve it with curd or butter.
It's the delicacy quite famous in Bihar and Jharkhand. Try it !! It's got the rustic north Indian flavour, Loved it !! Cause it's completely the desi way !!
Sattu Paratha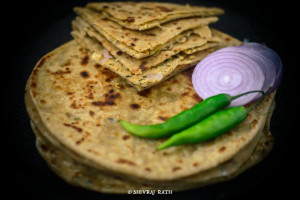 Sattu Paratha is an Indian Pan fried Flat Bread stuffed with tangy spicy mix of roasted bengal gram powder. The dish goes great with Baingan ka bharta .