Indulging oneself in food is so much fun. You try learning the basics, then start researching for it's history, try out few fusions with the local flavors and then comes out a beautiful recipe. It's so surprising to notice that the trend of food we eat doesn't limit to our boundaries, but rather spreads its horizon across boundaries. Gujiya is one such recipe.
Coconut Gujiya or Karanji is a famous North India sweet served and relished during Holi. Gujiya or Karanji has different variations of sweet stuffings in it and is generally baked or fried. The dish is a must during the Festival of colors "Holi" and Festival of Lights "Diwali".  Gujiya or Karanji is a sweet version of Empanda.
Talking about Empanada, it's a bread either baked or fried and stuffed with various stuffings ranging from fruits, cheese, vegetables and meat. The dish is mainly served in Latin Europe, Latin America, Southwestern United States and South East Asian countries.
Here goes the recipe of coconut and cashew nut stuffed Gujiya or Empanada:
Ingredients:
For Stuffing:
Coconut – 1 whole (finely grated)
Sugar – 1 cup
Cashew Nuts – handful
For Outer Covering:
All purpose Flour – 2 cups
Clarified Butter / Ghee – 2 tsp for Kneading
Vegetable Oil / Clarified Butter – For deep frying
Steps of Preparation:
For Stuffing:
Coconut Stuffing:
Take a wide bottomed pan and heat it for 2 mins.
Fry it approximately for 3-4 mins.
Add a cup of sugar to the semi-fried coconut and saute it for 2-3 mins.

Stuffing Step04
For the Outer Covering:
Add 2 tablespoons of clarified butter.
Rub the flour along with the clarified butter to bring it to a proper consistency.
For the assembling and frying:
After the dough is kneaded, make small sized balls as you make it for Puri.
Gently fold the Puri, bringing two edges of the pure together, ensuring the stuffing is properly laid inside.
After folding, make pleates with the hands as shown below or use different moulds available in the stores.

Assembling n Frying Step05

My mother showing how to fold a Gujiya

Assembling n Frying Step05

Let the oil heat up properly for deep frying, in order to ensure proper temperature of the frying oil. Add a small piece of dough and see it fries up with sprinkles all around.
After the oil is properly heated up, add the folded Gujiyas to the oil, turn sides.
Serve it hot, it's really a treat to the sweet taste buds with an amazing crunch in it.
Coconut Gujiya | Karanji | Coconut stuffed Empanada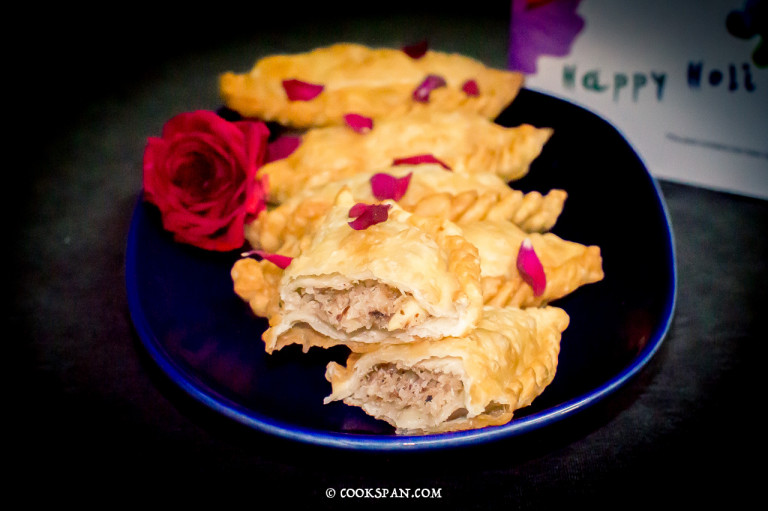 Step by step process with pics on how to make Gujiya. Gujiya or Karanji or Empanada is form of stuffed bread that is either baked or fried. It has multiple variations ranging from sweet to savoury.