When I was a child, egg was a life savior when fish or meat weren't available. If I wanted something not so veggie, mom would cook this "Anda aloo Bhurji" in a jiffy and serve it with hot chapatis or dal rice. The best thing about this dish is the simplicity, faint flavors of cumin, caramelized onion and my love for Potatoes.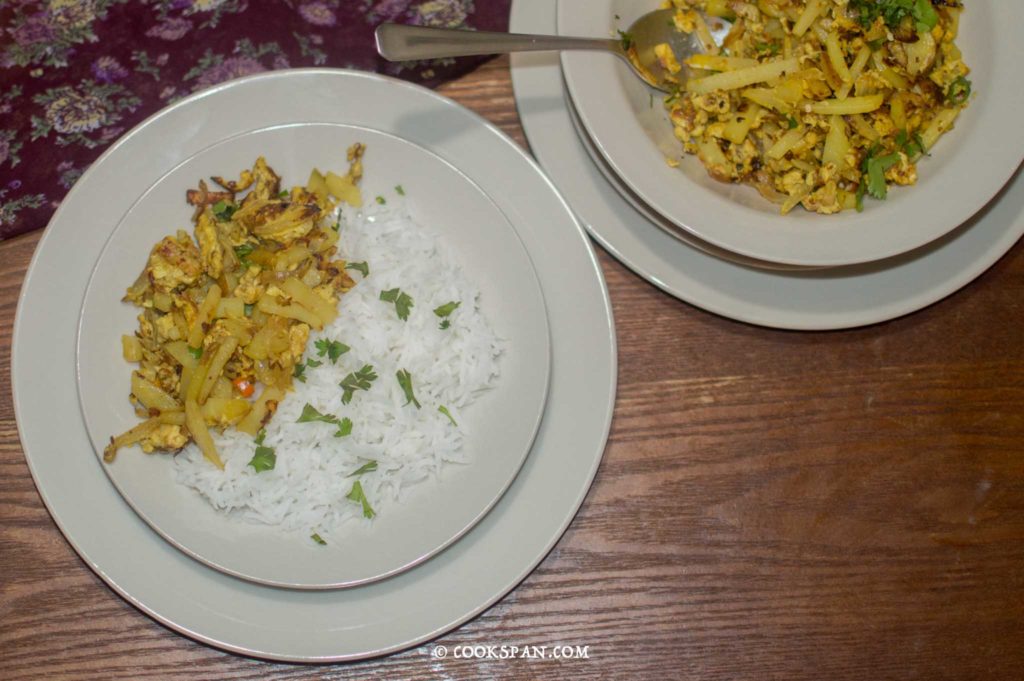 I wanted a simple dish for the dinner. The little one wants everything distinct and dry which he can hold, wave and then finally chew with all plays. Anda Aloo Bhurji turned out to be a great success and he munched it without a tantrum.
Here goes the recipe for Anda Aloo Bhurji:
Ingredients for Anda Aloo Bhurji or Potato and Egg stir fry: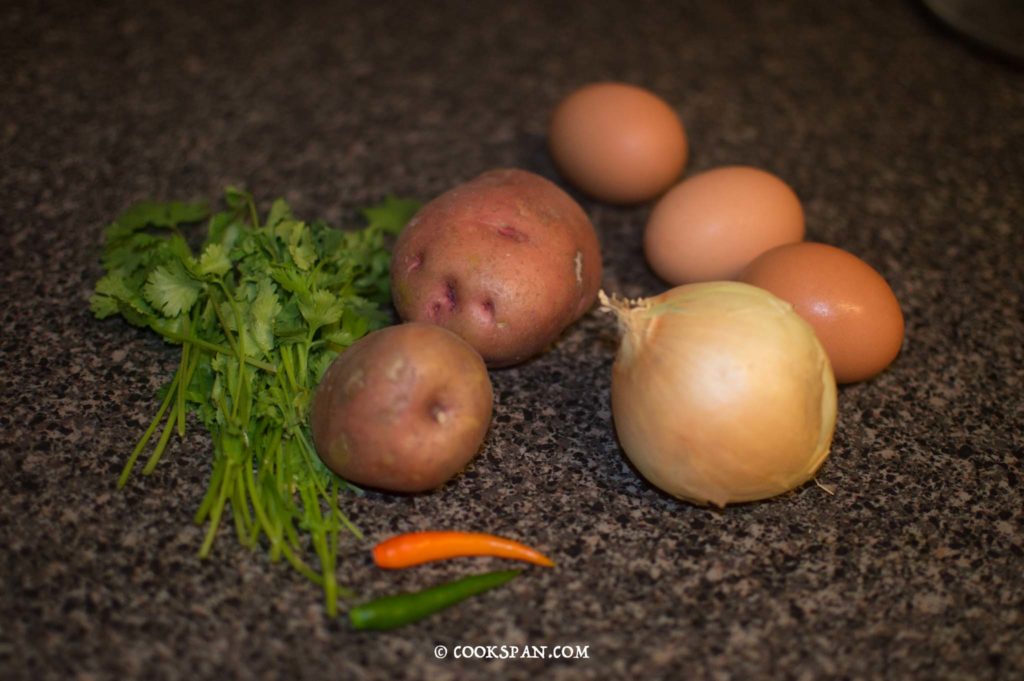 Eggs –  3 big sized ones
Potatoes – 2 medium sized
Onion – 1 medium sized
Green chilies – 3
Coriander Leaves – handful
Cumin seeds – 1 tsp
Mustard Oil – 2 tbsp
Turmeric Powder – 1 tsp
Salt – according to taste
Steps of Preparation of Anda Aloo Bhurji or Potato and Egg stir fry:
Cut the Onions and Potatoes into thin slices, almost in equal sizes.

Cut potatoes and onions

Finely chop the green chilies and coriander leaves.
Beat the eggs with a pinch of turmeric and a pinch of salt. Don't overdo salt as we will be adding it to the potatoes too.
Heat a frying pan with the oil.

Oil pan

Once heated up, add the green chilies and cumin seeds to the oil and let it splutter for few seconds.

Green chilies and cumin seeds in the oil

Then add the Onions until it starts caramelizing, and that's where the predominating flavor of the dish gets.

Adding onions

Caramelizing onions

Add the potatoes. To it add turmeric powder and salt and saute for a minute and then cover and cook for around 3-4 mins, until potatoes are half done.

Adding Potatoes

Adding turmeric and salt

Potatoes, turmeric and salt being mixed

Covering the mix

Taking out the lid

To the semi cooked potatoes, add the beaten egg and keep on stirring so that egg does not stick to the bottom or is burnt.

Adding beaten egg

Stirring the mix

Cook until the eggs and potatoes are done.

Keep cooking
Garnish with coriander leaves to add freshness of taste.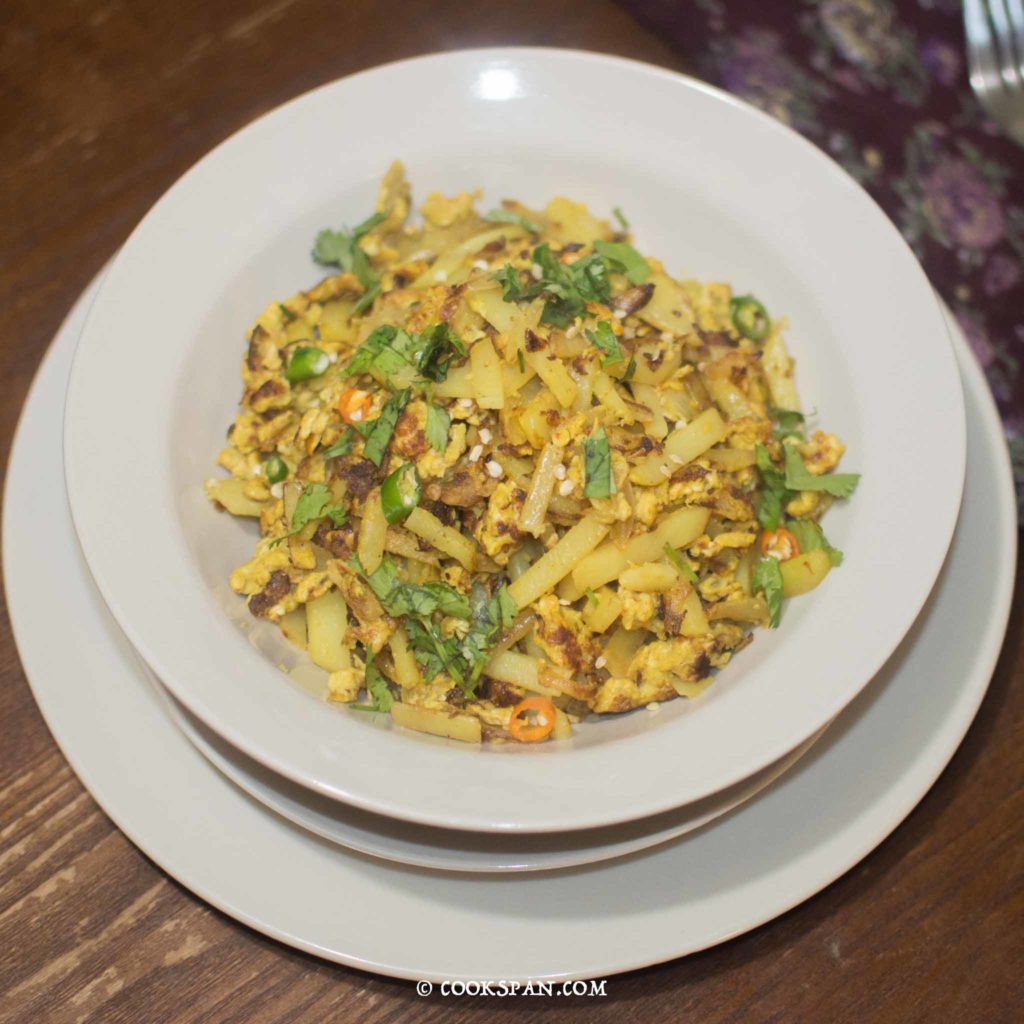 Serve these with the hot chapatis or yummy Dal Rice.

Anda Aloo Bhurji or Potato and Egg stir fry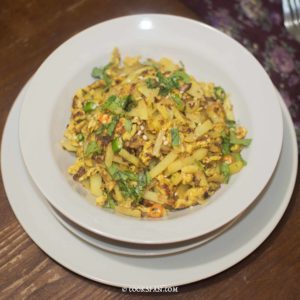 Anda Aloo Bhurji is a sacrambled egg version which is cooked in the stir fried potatoes and onions. The flavor of cumin and onions enhances the flavor.