Egg is one such ingredient which comes to rescue when you are out of stock and have no time for groceries. It's even the best friend for a no pro cooking day. You  simply make any dish in any format and it's a great dish to enjoy with anything. Ever since we shifted, nothing seems to be falling in place. I know the time would manage a lot of things. But for the time now, blogging has taken a back seat. However, I have not stopped cooking a bit. Cooking the meals fresh has become a real passion for me. They say eating fresh food has altogether a different charm, and ever since the little one has come to our life we learnt so many basics of life. And when I don't have any time or ingredient, nothing other than Anda Aloo Jhola comes to the rescue.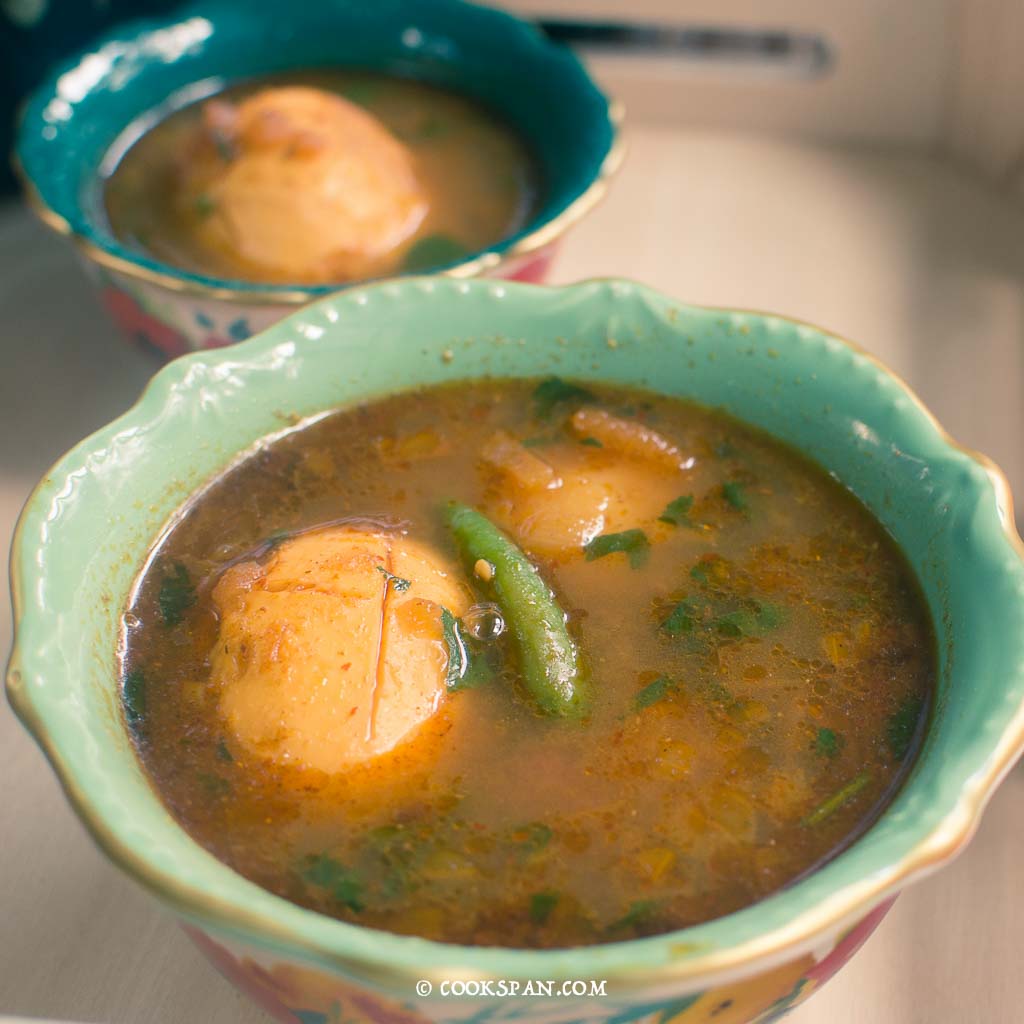 Speaking about this recipe, it's a thin curry made with Egg and Potatoes tossed in the Onions, Ginger-Garlic and Tomato gravy and cooked with a sprinkle of Garam Masala. This is served with a bowl of hot rice or rotis. I can eat it umpteen times without any decline in interest. So here goes one more easy peasy recipe for your everyday meal.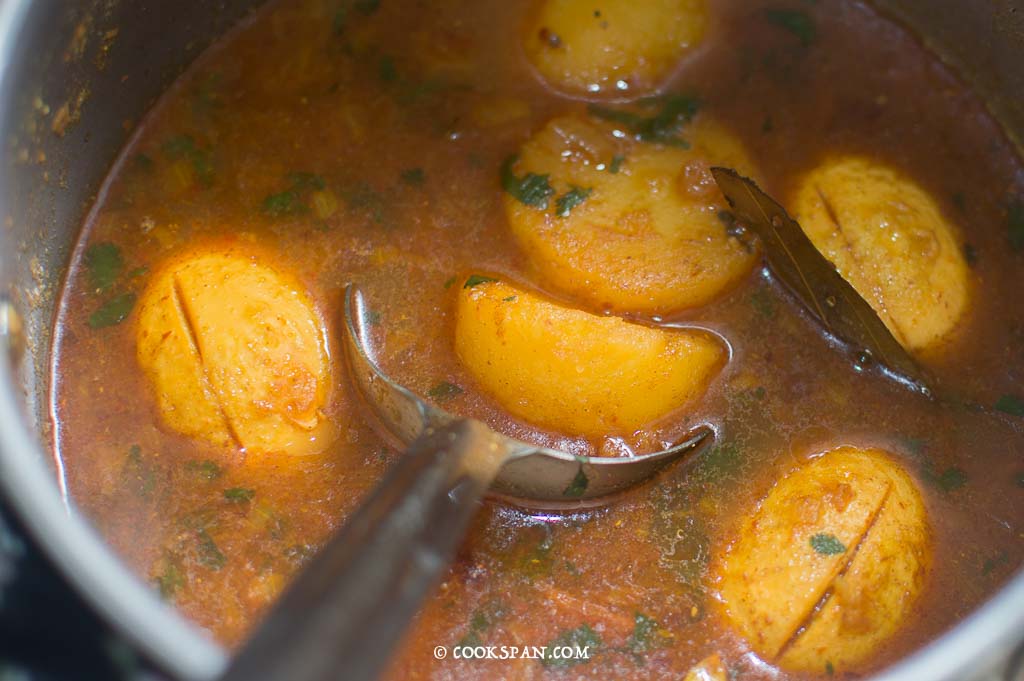 Ingredients:
Large Eggs – 5
Medium sized Potatoes – 3
Tomato – 1 medium sized, finely chopped
Onion – 1 medium sized, finely chopped
Garlic Cloves – 2 large
Ginger – 1/2 inch
Cumin seeds – 1 tsp
Coriander seeds  – 1 tsp
Red chilies – 3
Bay Leaves – 1
Cinnamon Stick – 1
Cardamom – 2 pods
Mustard Oil – 2 tbsp
Turmeric Powder – 1 tsp
Salt – according to taste
Coriander leaves – for garnishing
Green Chilies – 2, slit
Steps of Preparation:
Firstly, boil the Eggs and Potatoes in medium high for about 20 mins, until the eggs are hard boiled and potatoes are cooked firmly.

Boiling the Eggs and Poatoes

In the meantime, make a coarse ground paste of coriander seeds, cumin seeds, red chilies, ginger and garlic.

Ingredients for Gravy

Ground Paste

Once Egg and Potatoes are cooled, peel off the egg and potatoes and cut the potatoes to two equal halves.

Boiled Eggs and Potatoes

Heat a wide bottomed vessel, and add mustard oil to it. Gently fry the boiled eggs and potatoes in separate batches.

Adding the Mustard Oil

Shallow Frying the Boiled Eggs

Frying the Potatoes

Once done, to the same oil, add the whole spices like Bay Leaves, Cinnamon and Cardamom and gently toss it for a minute.

Adding the whole spices Bay Leaves, Cardamom and cinnamon

Add the finely chopped onions to the whole spices and cook it till softened and the raw smell goes off.

Adding Onions

Cooked Onions

Next, when the onions are cooked, add the coarsely ground paste and cook it till the oil oozes out of the mixture.

Adding the Ground Paste

Cooking the ground paste

Then add the turmeric and salt and saute.

Adding Salt

The tomatoes are added later to the mixture and cooked till the oil oozes out.

Adding Tomatoes

The cooked Masala

2 cups of water is further added and brought to a boil. Then add the potatoes and egg and cook it for 2 mins. I didn't let it shimmer a lot as I wanted a very thin gravy.

Adding the water to the Masala

Finally, add the coriander leaves and green chilies.

Adding the green chilies and Coriander Leaves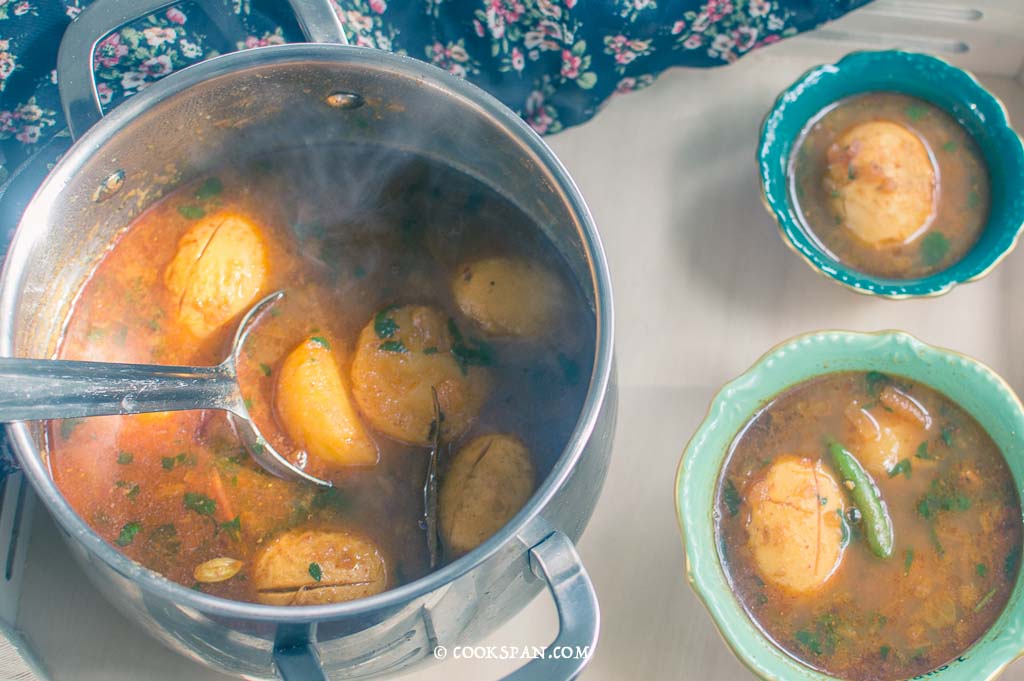 Once done serve it hot with Roti or Rice and a simple Raita makes a wholesome platter.

Anda Aloo Jhola or Egg Curry with the Potatoes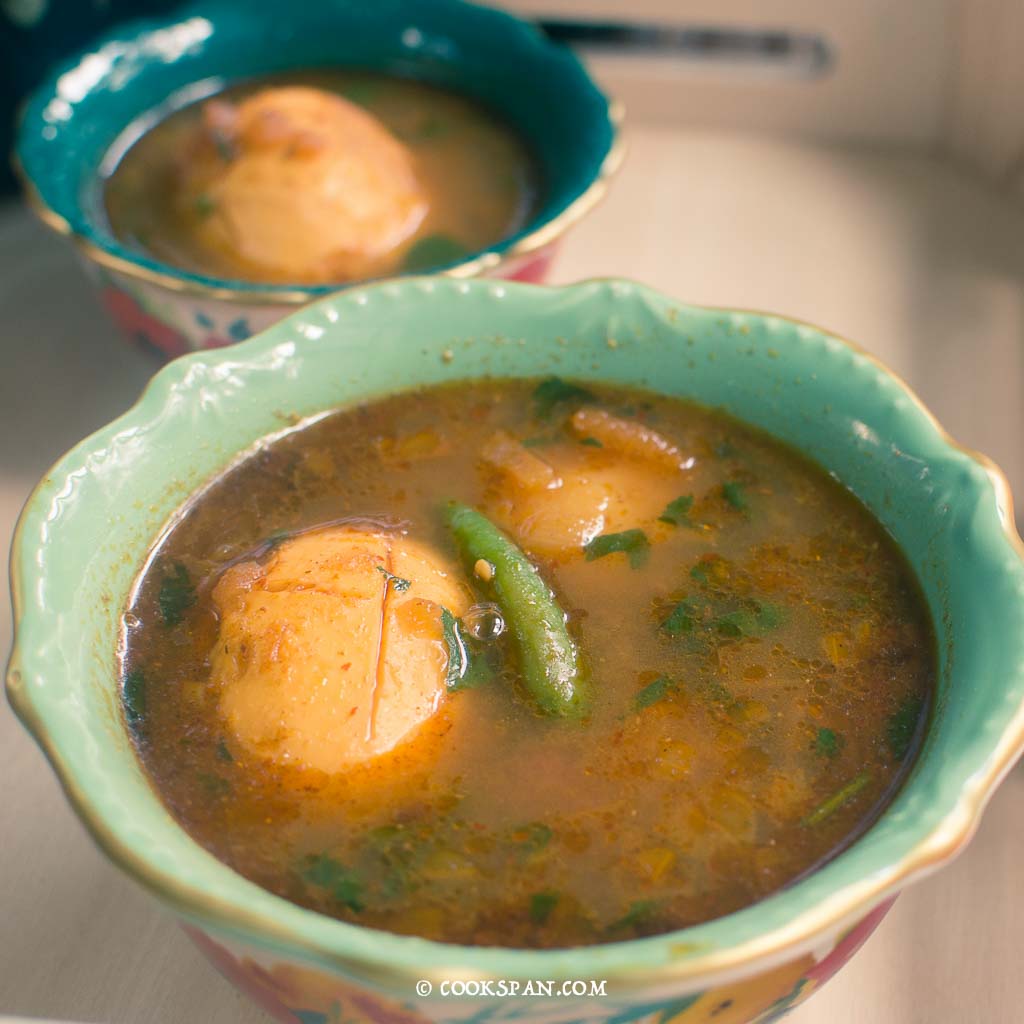 Anda Aloo Jhola is a thin gravy of Eggs and Potatoes cooked with Onions and Tomatoes gravy where the subtle spices play the role to add the flavors. The dish is served with Rice or Indian Flatbread Roti for meals.