Eggs are a savior! When you are out of ideas or out of veggies and want a quick meal, then its egg all around. And this lovely egg has always come to rescue whenever me and my family had to rush. It's definitely loaded into my weekly grocery bag without a thought. And the recipe of "Egg Roast" is built in our reflexes when it comes to combining something with Chapati or lunch time Rice and Daal combo. We prefer our egg dish quite hot, so we never pack it in lunch boxes.
The egg roast is made with all the regular Indian spices with a flavoring of Kasuri Methi or dried Fenugreek leaves to leverage the smell and taste. It's a quick dish made with loads of onions to enhance the sweetness of the dish and tomatoes for the tangy twist to coat the egg and offer a proper balance of all tastes.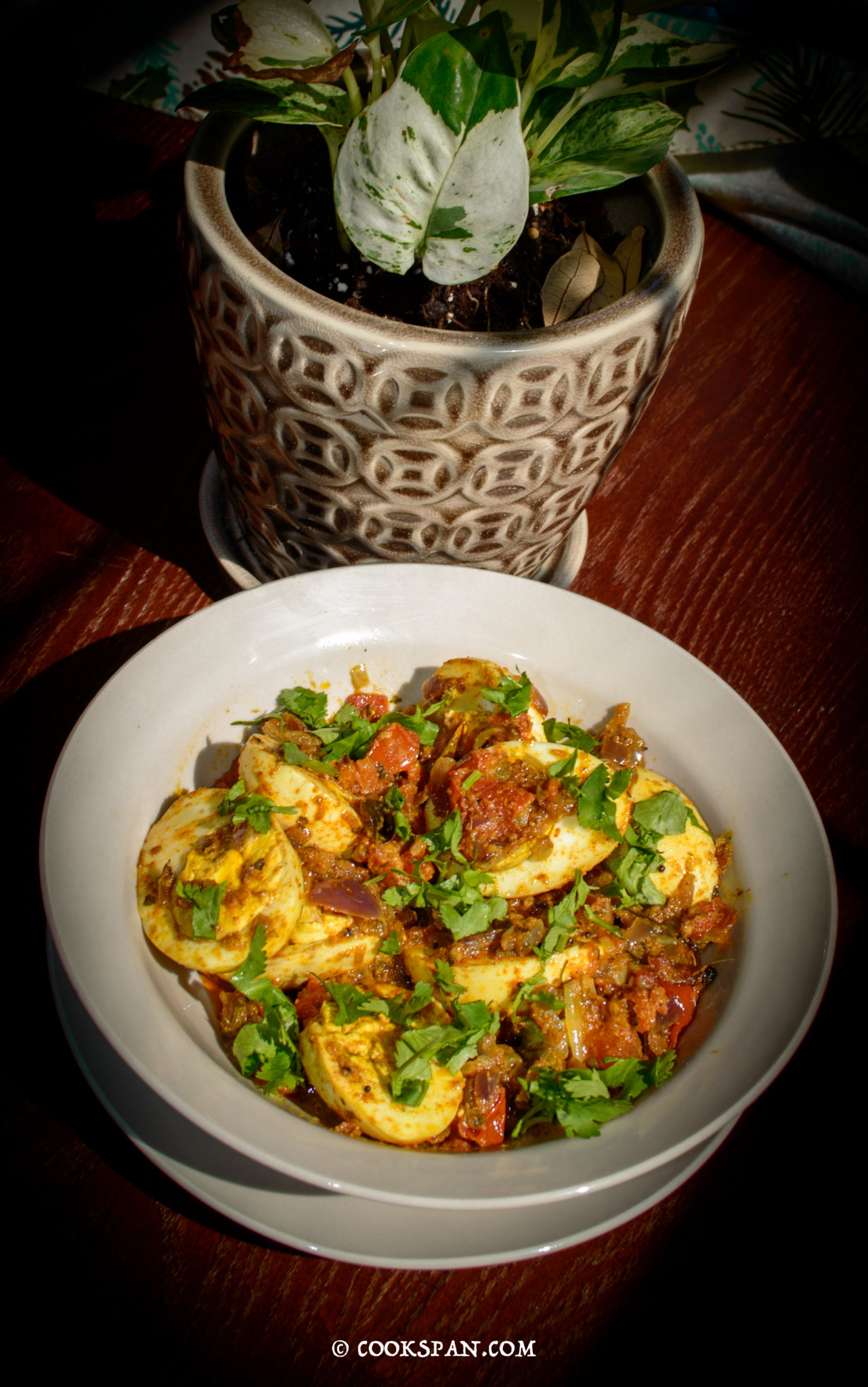 The recipe goes like this:

Simple Egg Roast for your quick weeknight dinners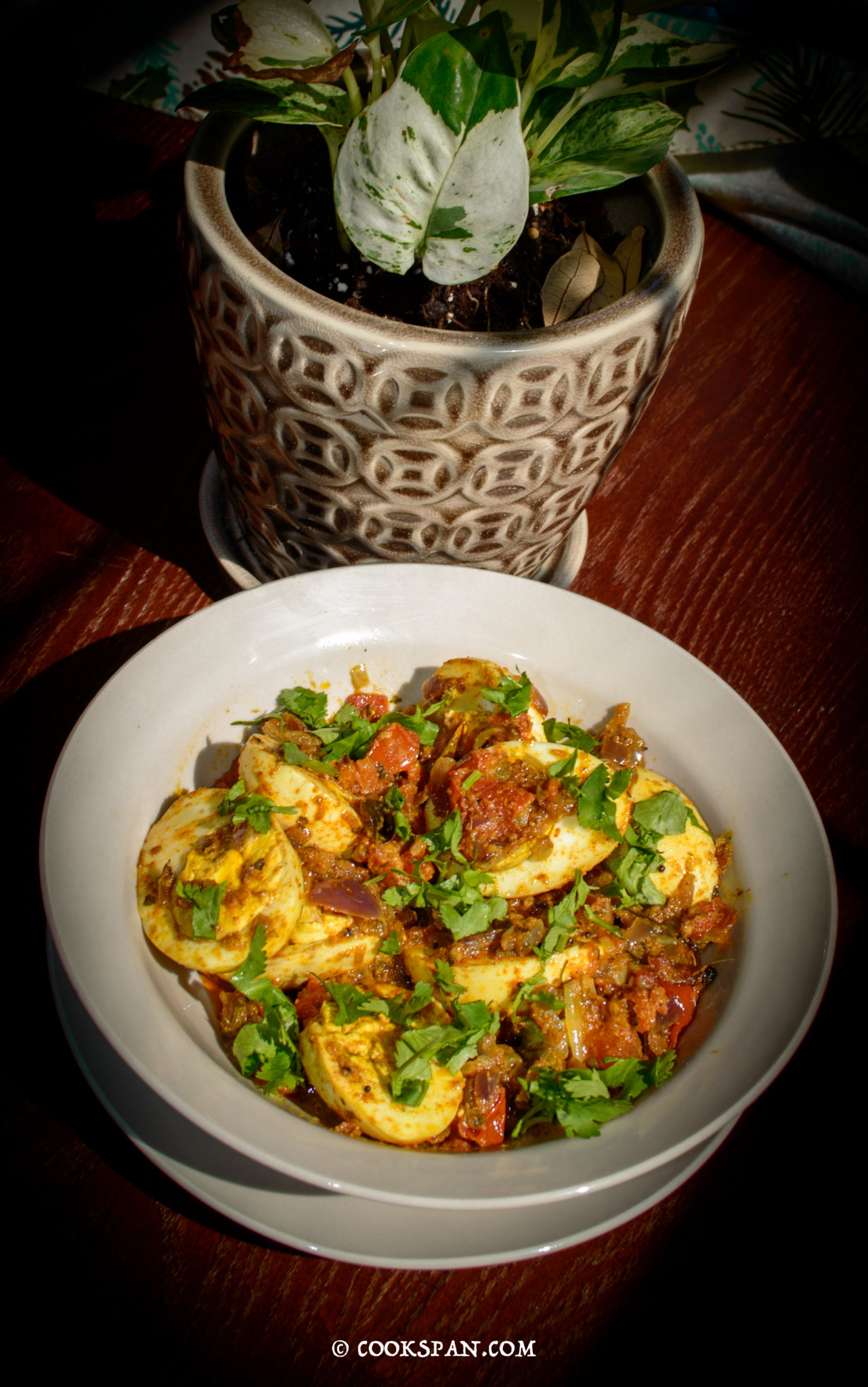 Egg Roast is an easy and quick dish made up of boiled eggs, onions and tomatoes are best when served with Chapati or Paratha or Dal Rice.
Ingredients
Boiled Eggs - 6 large
Onion - 1 whole big sized, finely chopped
Tomatoes - 2, finely chopped
Ginger Garlic Paste - 1 tbsp
Green chillies - 2-4 slit
Curry Leaves - 1 sprig
Mustard Seeds - 1 tsp
Cumin seeds - 1 tsp
Cumin Powder - 1 tsp
Coriander Powder - 1 tsp
Turmeric Powder - 1 pinch
Red chili Powder - 1 tsp
Salt - according to the taste
Coriander Leaves - for garnishing
Vegetable Oil - 2 tbsp
Instructions
Perfectly hard boil the eggs, i.e. Boil the eggs for 20-25 mins, then drain the hot water and add cold water and keep it covered for 10 mins. This helps in keeping the eggs hard boiled and also peeling off is easy.
Slice the hard boiled eggs to perfect halves.
Heat a wide bottomed pan, add the vegetable oil.
After 2 mins, add the mustard seeds, cumin seeds, curry leaves and green chilies and let it temper.
Then add the ginger garlic paste and let it cook till the raw smell goes off.
Add the dry powdered spices like coriander powder, cumin powder, turmeric powder, red chili powder and salt and cook for a minute.
Onions are next added to the pan and cooked till golden brown.
Add the tomatoes and cook till the oil oozes out, followed by the addition of dried fenugreek leaves.
After the gravy looks perfectly cooked and smells aromatic add the eggs and give it toss.
Ingredients for Egg Roast:
Boiled Eggs – 6 large
Onion – 1 whole big sized, finely chopped
Tomatoes – 2, finely chopped
Ginger Garlic Paste – 1 tbsp
Green chillies – 2-4 slit
Curry Leaves – 1 sprig
Mustard Seeds – 1 tsp
Cumin seeds – 1 tsp
Cumin Powder – 1 tsp
Coriander Powder – 1 tsp
Turmeric Powder – 1 pinch
Red chili Powder – 1 tsp
Salt – according to the taste
Coriander Leaves – for garnishing
Vegetable Oil – 2 tbsp
Steps of Preparation for Egg Roast:
First of all perfectly hard boil the eggs,  i.e. Boil the eggs for 20-25 mins, then drain the hot water and add cold water and keep it covered for 10 mins. This helps in keeping the eggs hard boiled and also peeling off is easy.
Heat a wide bottomed pan,  add the vegetable oil.
After 2 mins, add the mustard seeds, cumin seeds, curry leaves and green chilies and let it temper.
Then add the ginger garlic paste and let it cook till the raw smell goes off.
Add the dry powdered spices like coriander powder, cumin powder, turmeric powder, red chili powder and salt and cook for a minute.
Add the tomatoes and cook till the oil oozes out, followed by the addition of dried fenugreek leaves.

Tomatoes added for making it tangy

Cooked gravy