Staying away from home always pulls you into nostalgia. Recently, I received an invitation for one of my close friend's wedding. But staying miles away from home and that too with an infant made it impossible for me to attend. Odiya marriage, like any other Indian marriage is an event filled with a sea of colors alongside never ending rituals, fun and loads of emotional dramas. All these pulled me back to sit back and see my own wedding photos. I was really drawn seeing my family. Every photo spoke thousands of emotion. There were people who I wanted to be with, there were close friends, family and so many unknown faces where I had to impose a known smile.
There were many people from my side whom my husband had met only once. I was giving more details about them as we scanned the photos. Within them one is my Bada Maa (my Dad's elder brother's wife). I introduced her to my hubby dear as to one who makes the world's best "Aloo Chop". After hearing it, he literally pleaded me to make them. Though I can't reach the level of hers, but I made my made my version.
Aloo Chop, as it's famously known as in Odisha and Bengal is spicy mashed potato coated with a thick layer of chickpea flour batter and fried generously with oil. It's known as Batata Vada in Maharashtra and Aloo Bonda in Southern parts of India. The best part of the dish is when you munch it, the pillowy chickpea floor coating discloses a sudden burst of flavors. Loads of spices, nuts and the very favorite potato. I remember in my childhood days the roadside vendor use to pack them with some fried green chilies and raw onion rings with a sprinkle of black salt.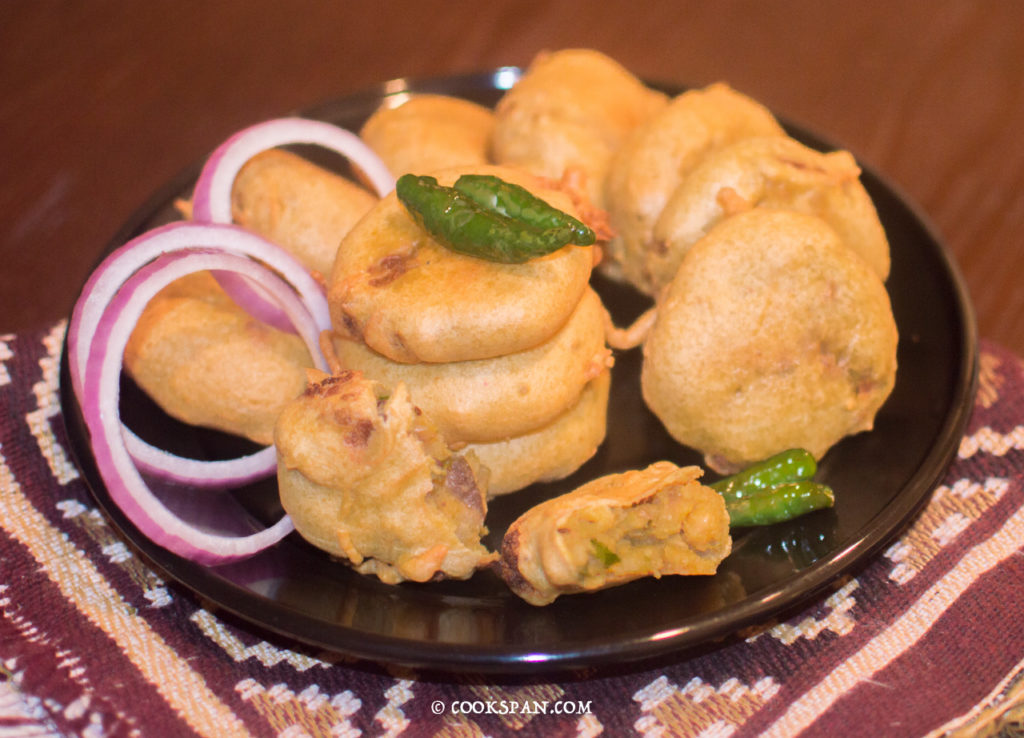 And the recipe goes like this:
Ingredients:
For the Filing:
Potato – 4 medium sized
Onion – 1 medium sized, chopped
Ginger (grated) – 1 tbsp
Garlic (grated) -1 tbsp
Coriander Leaves –  2 tbsp, finely chopped
Mango Ginger (grated) / white turmeric – 2 tsp
Boiled Yellow Peas – 1/2 cup
Green Chilies – 2 finely chopped
Cumin – 1 tsp
Cumin Powder – 1 tsp
Coriander Powder – 1 tsp
Red Chili Powder – 1 tsp
Turmeric Powder – a pinch
Salt – According to the taste
For the covering or coating:
Chickpea Flour or Besan – 1 cup
Baking Soda – 1/2 tsp
Red Chili Powder – 1 tsp
Salt – according to taste
For deep frying:
Vegetable Oil or Mustard Oil
Steps of Preparation:
For the Filing:
Heat a pan, add 2tbsp vegetable oil or mustard oil to it. I've used vegetable oil here.
To the mixture, add the grated ginger and grated garlic and saute it till the raw flavors goes away.
To the mixture, add the dry spices (cumin powder, coriander powder, red chili powder and turmeric powder) and cook it.
Add the mashed potato and boiled yellow peas to the mixture and cook till the spices are coated evenly with the potato. Some people add roasted peanuts but my hubby asked to exclude it.
For the covering:
Add the rest dry ingredients i.e. Baking soda, salt and Red chili powder.
For Frying:
Enjoy the hot Aloo chop with your favorite chutney.
Aloo Chop or Batata Vada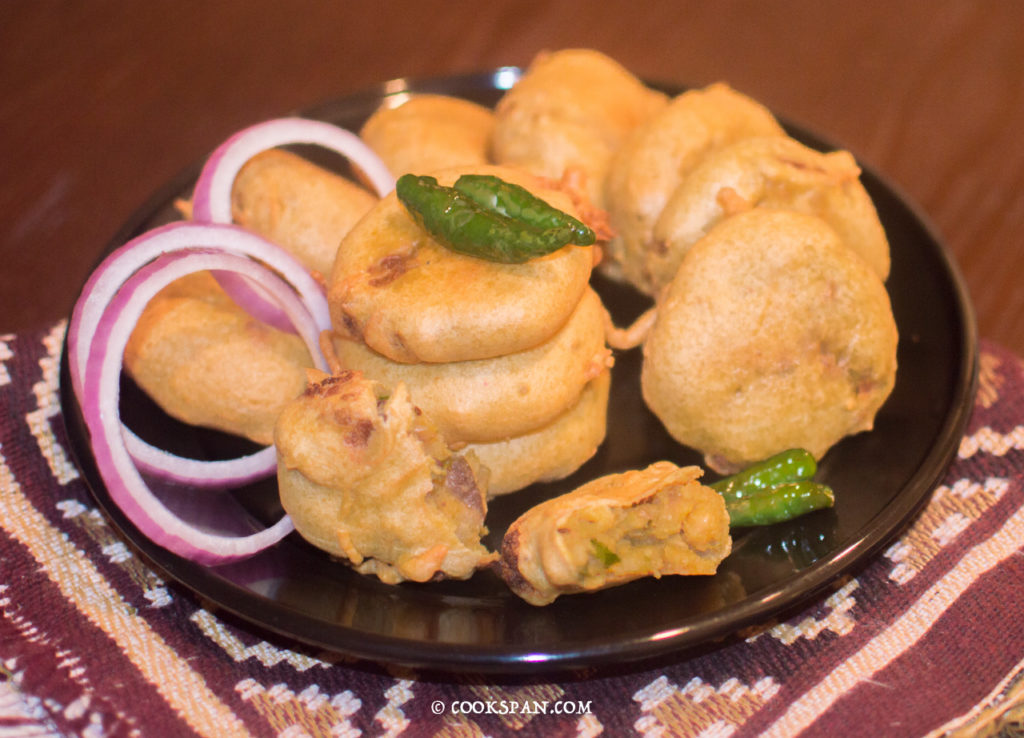 Aloo Chop is a pillowy fritter made up of chickpea flour stuffed with a spicy potato. It's an amazing street food found in almost all corners of India.


[wpdevart_like_box profile_id="cookspan" connections="show" width="300" height="180" header="small" cover_photo="show" locale="en_US"]