Grand Parents are precious and even if they leave you, the best memories of yours can always retrace back to them. Today is the grand occasion of Samba Dashami, a unique festival celebrated in Odisha. This festival is named after Samba, son of Lord Krishna, who was suffering from Leprosy. After praying for 12 years to the Sun God (Surya Devata) at Konark temple, he was cured from it. Later on, Odiya women, in the believe that Sun God will protect their children from any kind of ailments would offer a special delicacy (most preferably their favorite) on behalf of each member of the family.
I miss my Grand Mom (Aai) a lot on this day. Every year on this very day, Aai used to wake up by 3:00 am in the morning. She'd start the ritual of cooking a grand meal. The platter was quite an abrupt one. There would be numerous rice varieties, sweet varieties, Pithas from Odiya cuisine and curries. However, the best one of them would be the Budha Chakuli (sweetened Black Gram and rice pancake infused with coconut and spices), which she'd make for my Grand Father (Aja). Aja had a real sweet tooth and he preferably wanted everything sweet in the world.
The fun part of this festival is, my Mom being a working woman and lazy on this ritual would offer a Banana on my behalf. I sometimes love her genuineness for accepting that she couldn't afford to cook with her hectic lifestyle and yet she wanted to stay attached to the roots. Leaving all the memories aside, I wanted to take my easy route of celebrating the festival with my Aja's delectable favorite pancake. It's a super easy recipe and can be made in no time if you have Dosa batter. The recipe varies from household to household. Some people add dry fruits and nuts, but I wanted to live those days, so I created the ones what my Aai used to make with.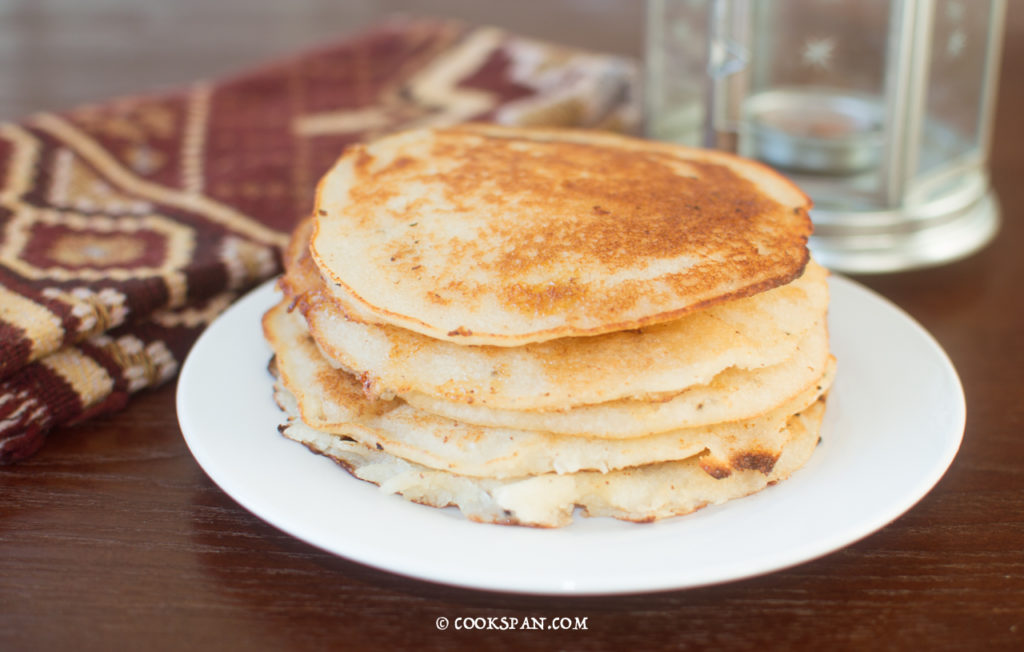 Ingredients:
Urad Daal or Black Grams – 1 cup
Idli Rice – 2 cups (I used Sona Masoori as it was festival time, and we offer only raw rice to God)
Peppercorns – 5
Cardamom – 2
Jaggery – 1/2 cup
Coconut (chopped into small pieces) – 1/4 cup (I used desiccated ones as my pantry didn't have raw ones)
Salt – 1tsp
Ghee or Clarified Butter- for cooking the pancakes
Steps of Preparation:
Grind the soaked Black Gram and rice to a smooth thick texture. Make sure it's not runny like Dosa batter. The consistency should be in-between that of Idli and Dosa.
Keep the batter for 3-4 hrs (if in hot regions) or 7-8 hrs (if in cold regions) for fermentation.
Coarsely grind the peppercorns and cardamom, and add to the batter.

Mortar Pestle with cardamom and peppercorns

Crush the Jaggery and add to the batter. Add salt and desiccated coconut too.

Batter with crushed Jaggery

Mix the batter evenly, so that the all the ingredients are mingled properly.
Heat a wide bottomed griddle, add 1 tsp of ghee to grease the griddle and then pour 2 ladle of batter on it.
Cook it for 2 mins. Turn the Chakuli once it starts getting brown. Keep a keen eye on it, as Jaggery will let burn the pancake easily.
After turning, let the other side get cooked to golden brown.
Serve it hot as a breakfast or a snack.
I didn't want to experiment with this recipe, as it would be like tampering with my memories. This feeling is special, so substituting them is next to impossible. Enjoy the Budha Chakuli, an age old Odiya Pan cake.
Budha Chakuli: An age old Odiya sweet Pancake with a tribute to my Grandparents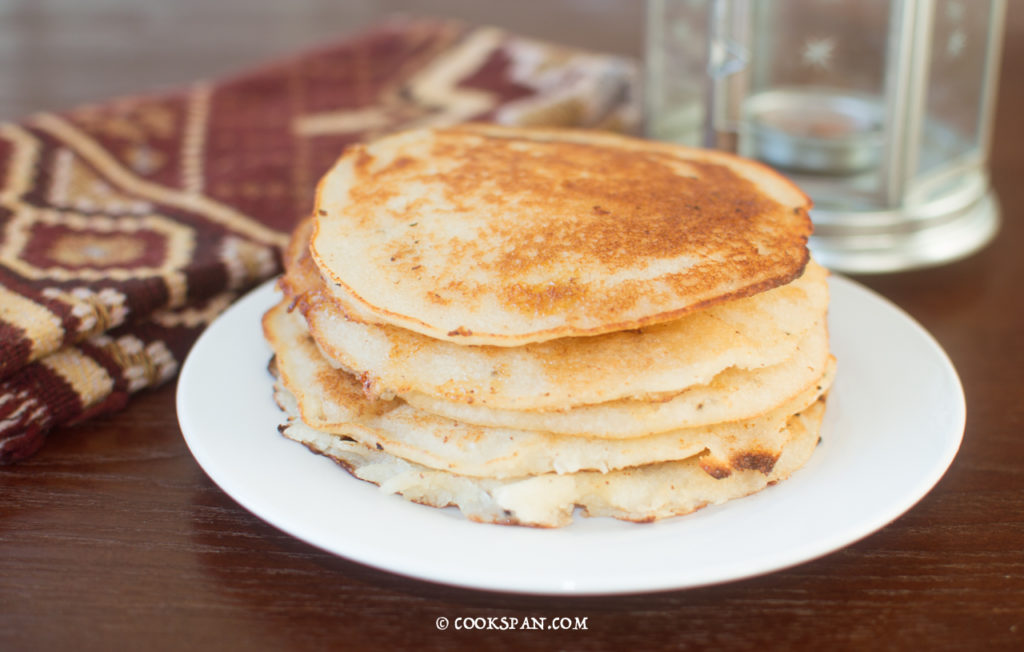 Budha Chakuli is an Odiya Pancake, made up of Black Grams,Rice sweetened with Jaggery and seasoned with spices and coconut,offered as Prasad on festivals.