Being a part of a conservative Odiya family, non veg is far from the bay in my kitchen in this holy month of Kartik. But Sunday needs some remarkable recipe to enrich our platter. It's all mundane when the weekend goes without any special dish.
When I was lost in my thoughts and wondering what to cook for the lunch, the left over Buta Daali Bara (Chana Dal Vada) caught my attention. My mom used to make this in winter or rainy times. And they are no less than a meat curry both taste wise or nutrient wise. The Bengal Gram fried dumplings are one of the good source of protein when cooked with potato, it's a perfect curry to relish on. Without wasting much time, I jumped over to cook this yummy spicy delight to serve my Sunday lunch.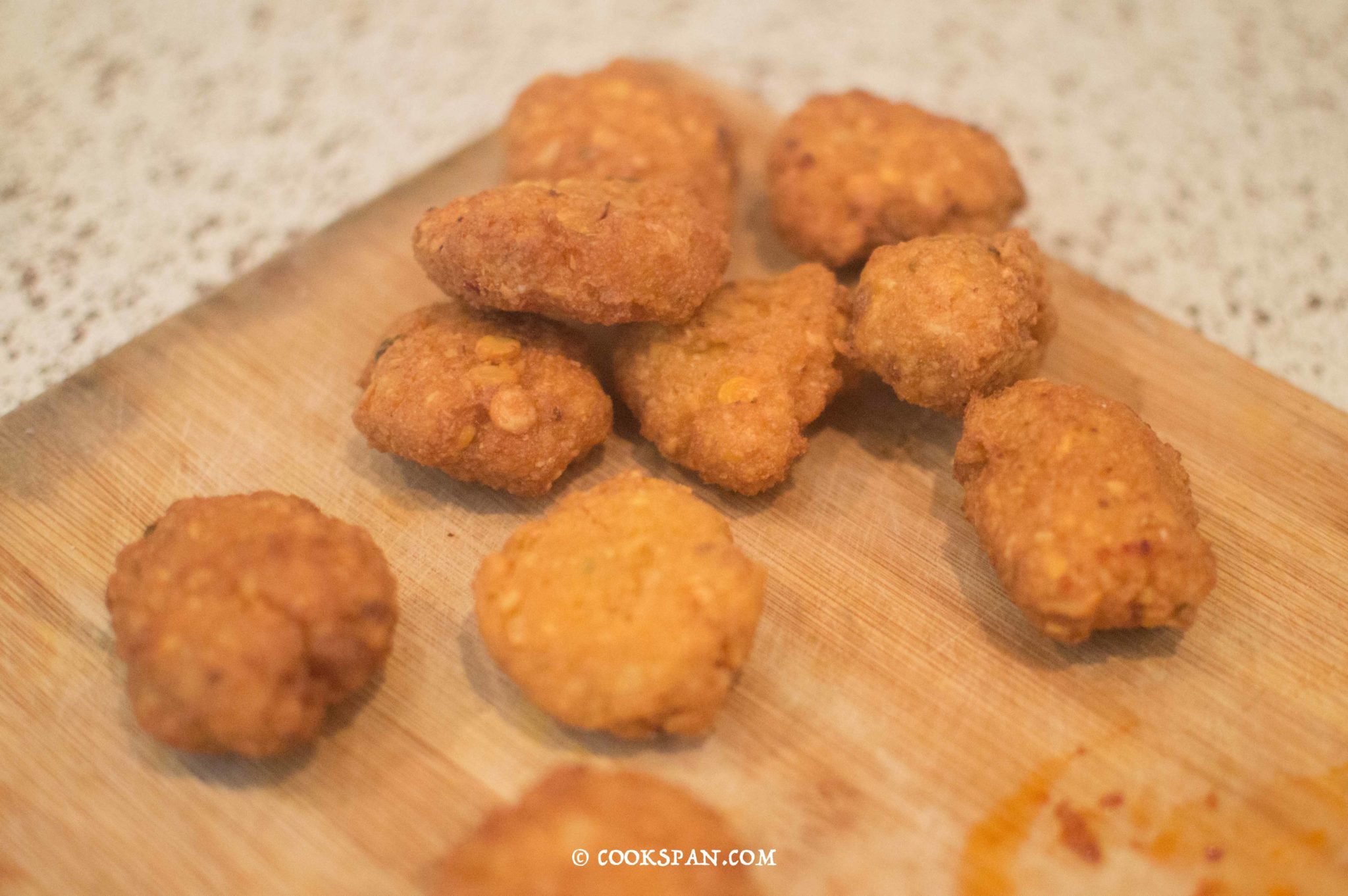 The recipe of the Buta Daali Bara Tarkari goes like this :
Ingredients:
Buta Daali Bara or Chana Dal Vada – 10-12 pieces
Onion – 1 medium size, chopped
Tomato – 1 big sized, roughly chopped
Garlic – 3 big cloved
Ginger – 1 inch
Coriander Seeds – 1 tsp
Cumin Seeds – 1tsp
Dried Red Chilies – 2
Dried Kashmiri Red Chilies – 2
Bay Leaves – 2
Green Cardamom – 2
Cinnamon Stick – 1
Boiled Potatoes – 3 medium sized, peeled and cubed
Vegetable Oil – 2 tbsp
Salt – according to taste
Turmeric powder – 1 tsp
Steps of Preparation:
Blend together Ginger, Garlic, Cumin seeds, Coriander seeds, dried red chilies, dried Kashmiri red chilies and tomatoes to make a smooth paste.
Heat a pan and add the 2 tbsp of vegetable oil, add the whole spices, cardamom, cinnamon stick and bay leaves to it and let the fragrance ooze into the oil.
Add the chopped onions and cook till it softens and caramelize to light golden brown.

Onions added

Then add the blended paste, turmeric powder and salt and cook till the oil separate from the mixture.

Adding the Blended puree
You can separately adjust the quantity of water according to the thickness of the gravy. As, I planned it to eat it with plain rice I preferred it thinner and added one more cup of water.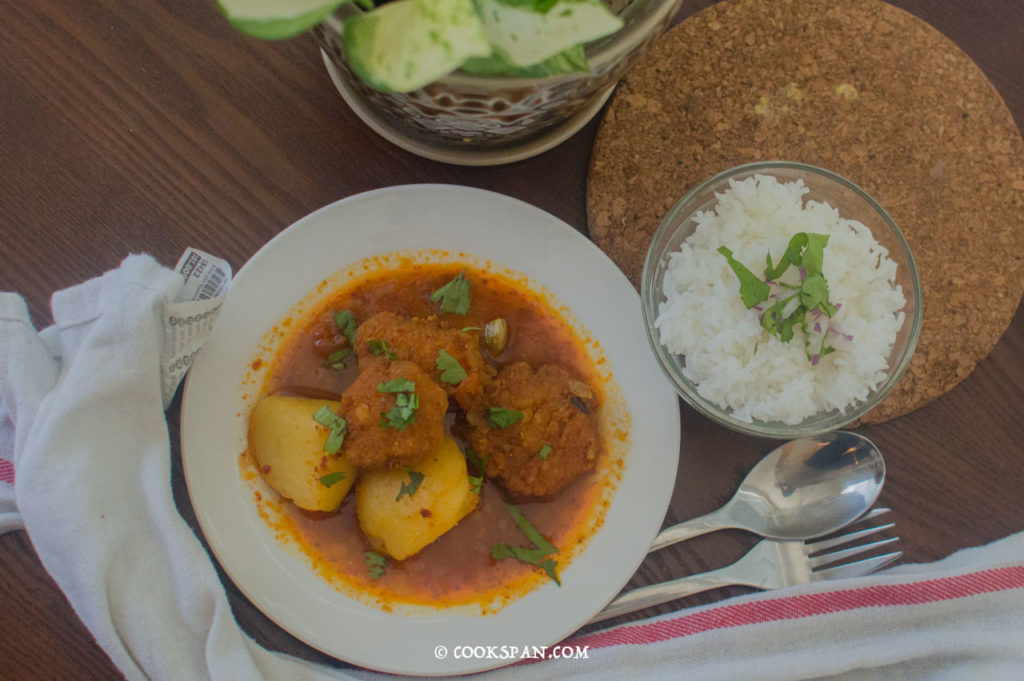 Buta Daali Bara Tarkari or Chana Dal Vada Curry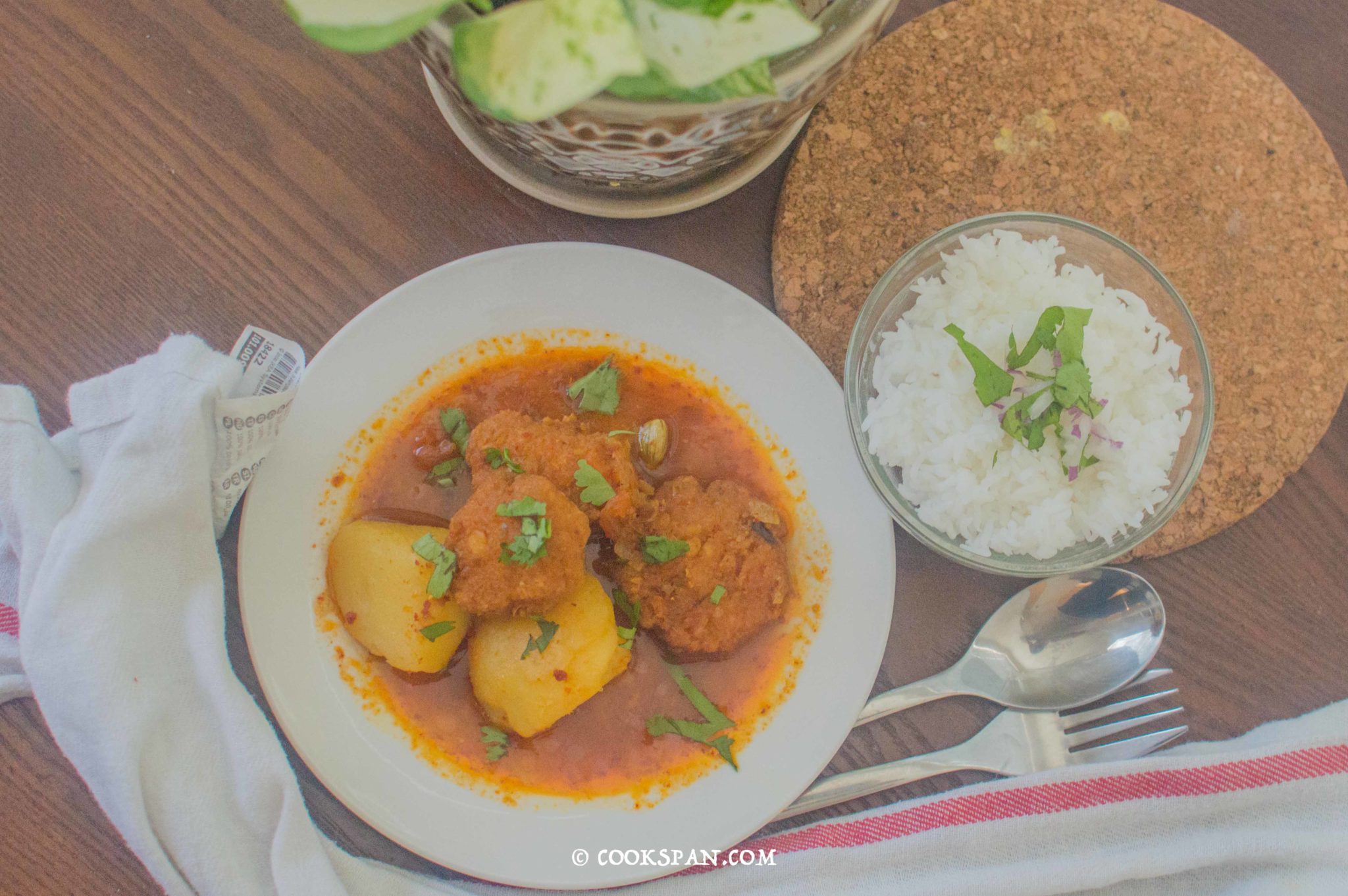 It can be called as the vegetarians meat curry. It matches both to the taste and nutrients and can be perfectly enjoyed with rice or roti.