Pakhala is a traditional rice dish of Odisha. This is prepared in a very simple manner, where the cooked rice is soaked in water. This can be either eaten fresh (Saja Pakhala) or left overnight for fermentation to enhance the taste (Basi Pakhala). Being located in the tropical zone, Odisha experiences a high heat wave which is sometimes beyond tolerance. This dish is a comfort food for the summer days, preventing the water loss and giving the perfect coolness to the tummy and heart.
This is probably one of those dishes which binds the Odias from all over the world. From rich to poor, traditional to modern, old to the youth every Odia craves for this dish. The beauty of this dish is more reflected, when it is served with an array of veggies, fish, chicken and greens. No one can escape its delight without having a bowl full of pakhala and ending up with drinking the torani (water in which the rice was soaked). And, not to forget Lord Jagannath also falls into the charm of this dish, taking a two servings per day for this dish.
In order, to keep the saga of Pakhala love, we Odias celebrate the Pakhala Dibasa (day dedicated to Pakhala) every year on March 20, when the summer takes a sneak peak in Odisha.
I have genuinely prepared few of the thalis with different spreads which you can enjoy over this summer.
AMISHA PAKHALA PASARA: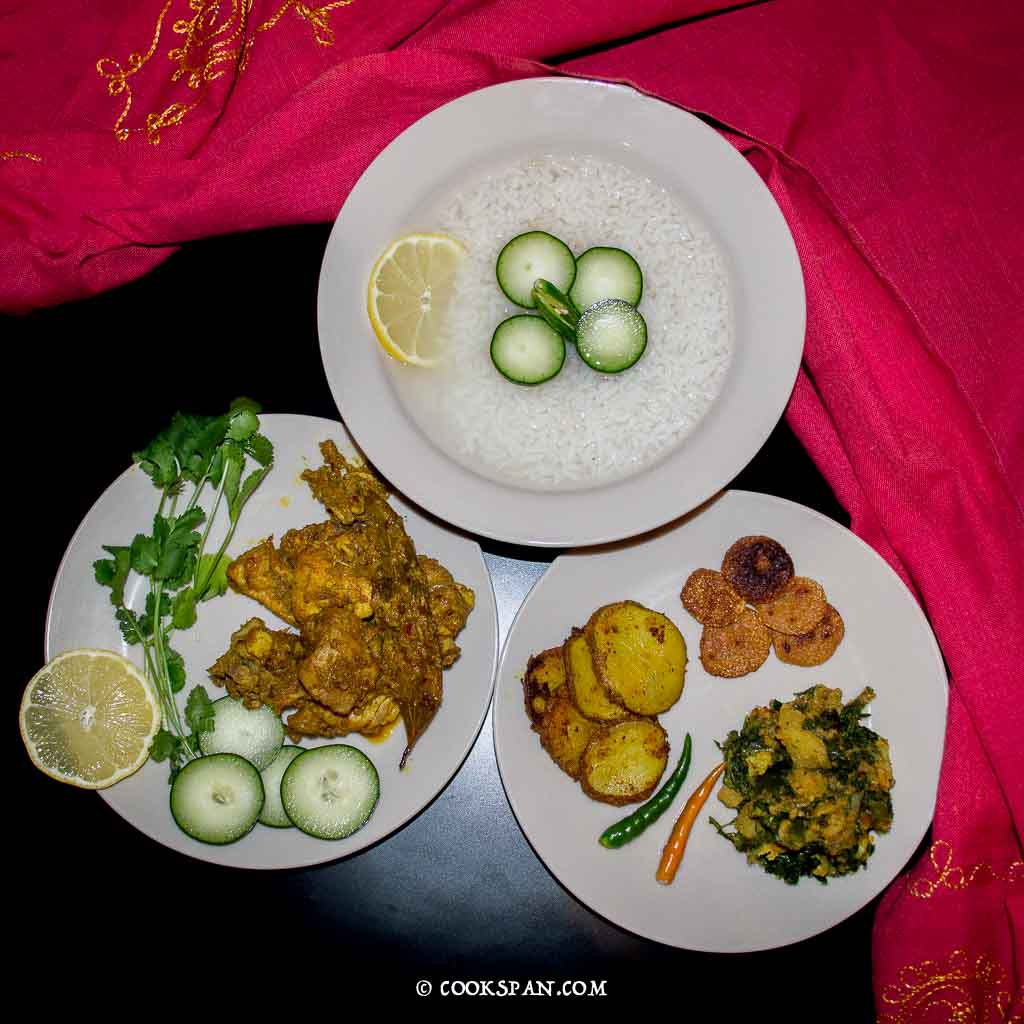 Saja Pakhala (Freshly soaked, cooked rice) flavored with Lemon, Green Chilies, Cucumber and with an amazing spread of Chicken Kasa. It also has Aloo Bhaja flavored with Besara, Mula Saga Rai (Radish, greens, cooked with an array of veggies and flavored with Besara), Badi Bhaja (Sun dried lentil dumpling stir fried), slices of cucumber, springs of coriander leaves and Green chilies.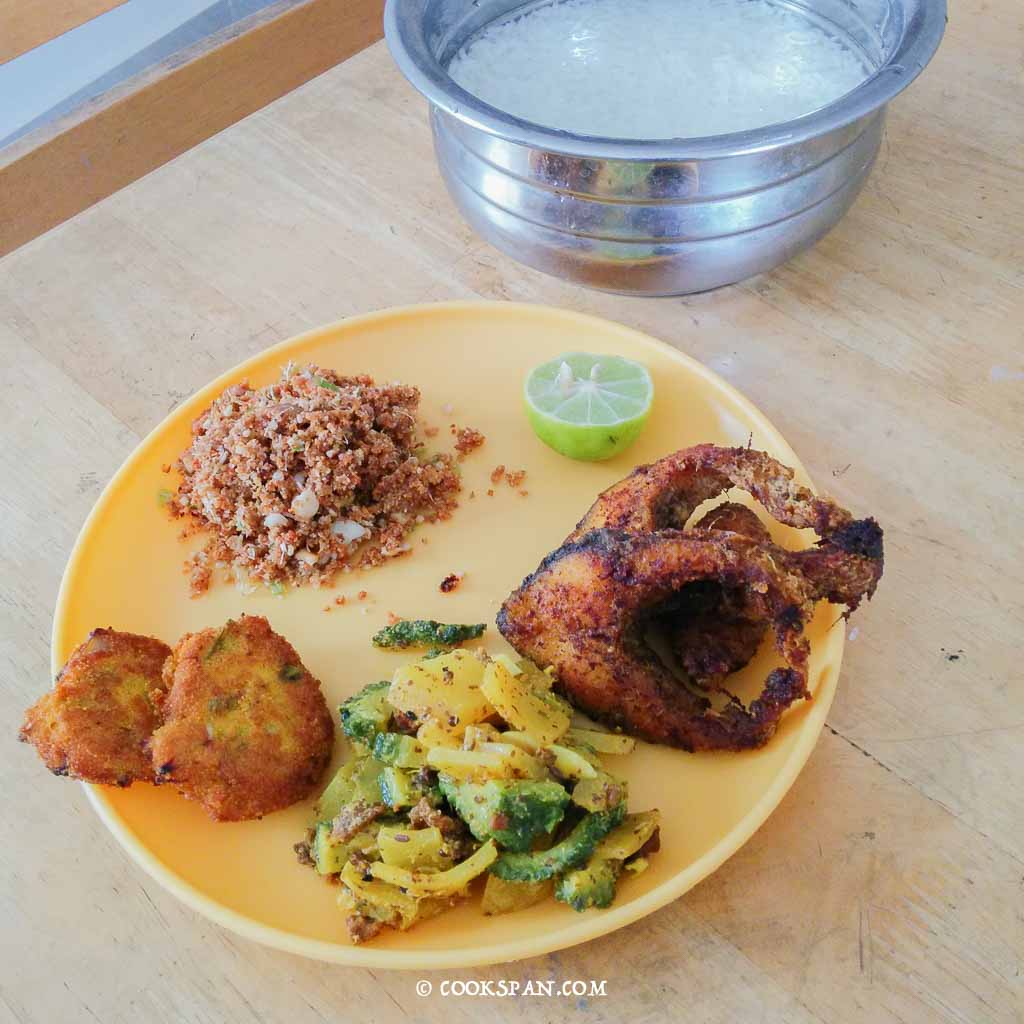 Basi one with Sorisha Masala dia Kala Bhaja, Sorisha Masala dia Machha Bhaja, Macha Manji Bara, Badi Chura
SADHA PAKHALA PASARA: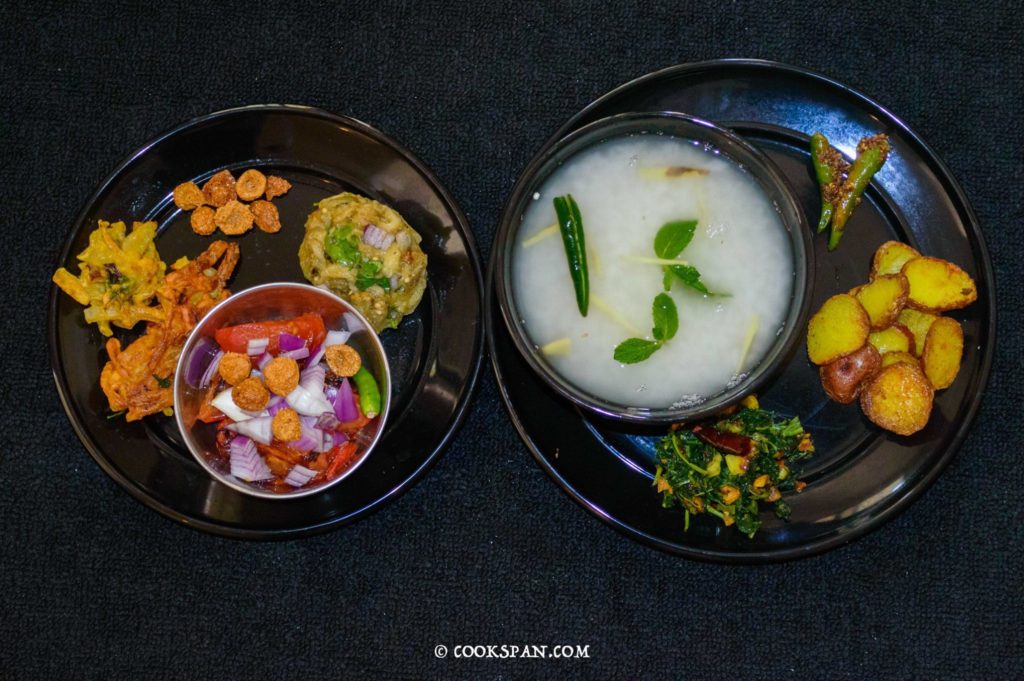 Saja Pakhala (Freshly soaked rice) flavored with Mint Leaves, Mango Ginger and Green Chilies with a veggie spread. Veggies include Aloo Bhaja (Baby potatoes cooked in mustard oil with turmeric and salt), Baigan Bharta (mashed roasted eggplant), Tomato Poda Paga (Roasted Tomatoes with Badi,Piaja, kancha lanka and sorisha tela), Piaji (Onion Pakoda), Saga Bhaja, stuffed green chili fries.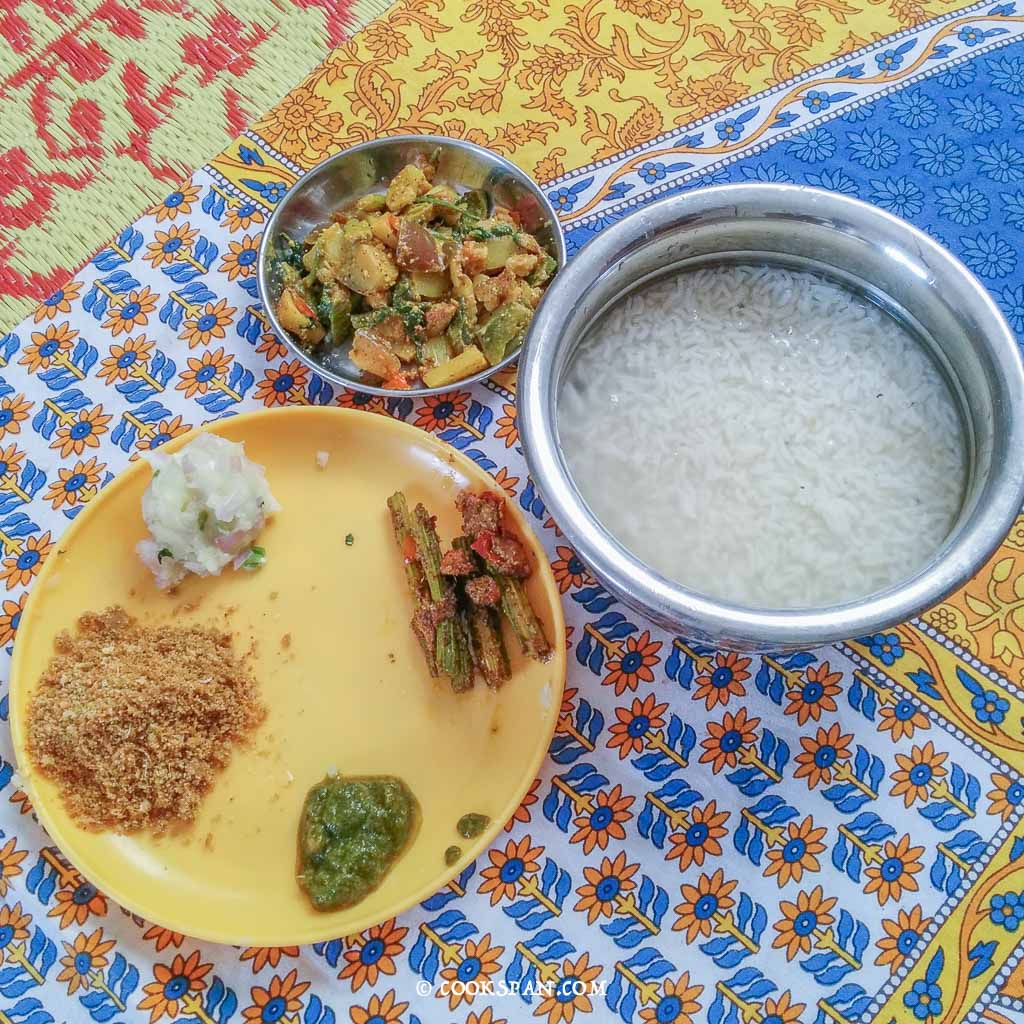 Basi one with a proper veggie spread misa misi pariba rai (mixed veggies cooked in besara), aloo chakta (odia way mashed potatoes), Badi chura , sajana chuin besara , Dhania chutney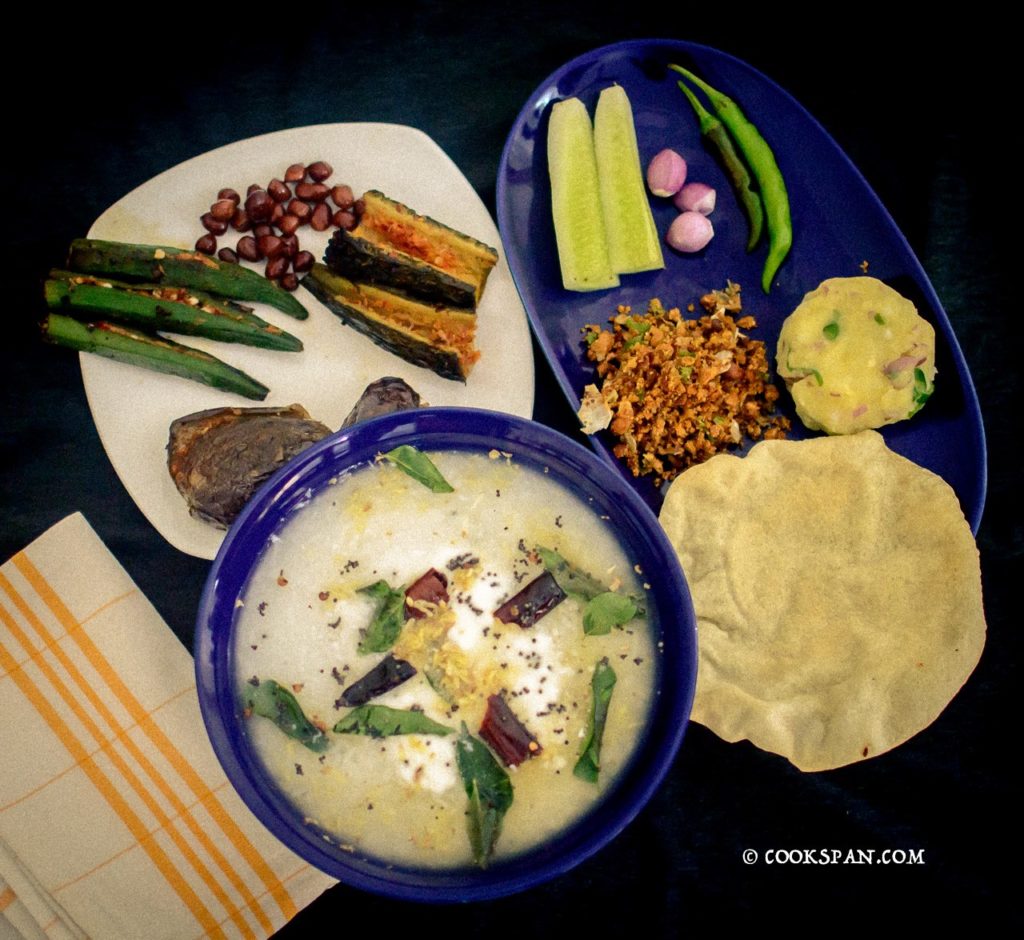 Dahi one (Rice soaked in water later a cup of curd is added) with a tempering of curry leaves and mango ginger, red chilies and cumin and mustard seeds served with a perfect Veggie spread.  Veggies includes Gota Masala dia Bhendi Bhaja (Stuffed Okra fries), Gota Masala Dia Baingana Bhaja (stuffed Eggplant fries), Gota Masala dia Kalara Bhaja (stuffed Bittergourd Fries), Aloo Bharta (Odia way mashed potatoes), Badi chura (coasely ground lentil dumpling with an array of odia flavors), papad, cucumber slices, chota piaja (shallots), Green chilies.
Side dishes you can cook with for a perfect lunch spread
Kalara Aloo Chad Chadi or Sorisha dia Kalara Bhaja