Packaged food versus Home cooked food has been in debate for a long time. In most modern Indian family, where both the members are busy working for their targets, packaged food gets a cozy position in the kitchen cabinet. Whereas making home cooked food especially munching snacks looks like a tedious ritual. This was not the case earlier. Every bit of snacks was made at home. And it was stacked in a big airtight container and served for teatime. It was relished with the chit chat sessions. Some snacks were specially prepared during festivals and distributed to all the relatives and friends as a part of goodwill. One such favorite tea time snack is Namak Pare or Nimki or crispy fried-flour chip.
It is a favorite Holi and Diwali delicacy. The beauty of this dish is that it is a savory snack, that's crispy and is a perfect match for the hot tea at evenings. You can make it in large quantity and store it for a long time in air tight containers. There are many variations that can be prepared with mild addition of flavors to the dough, but I made the simplest one.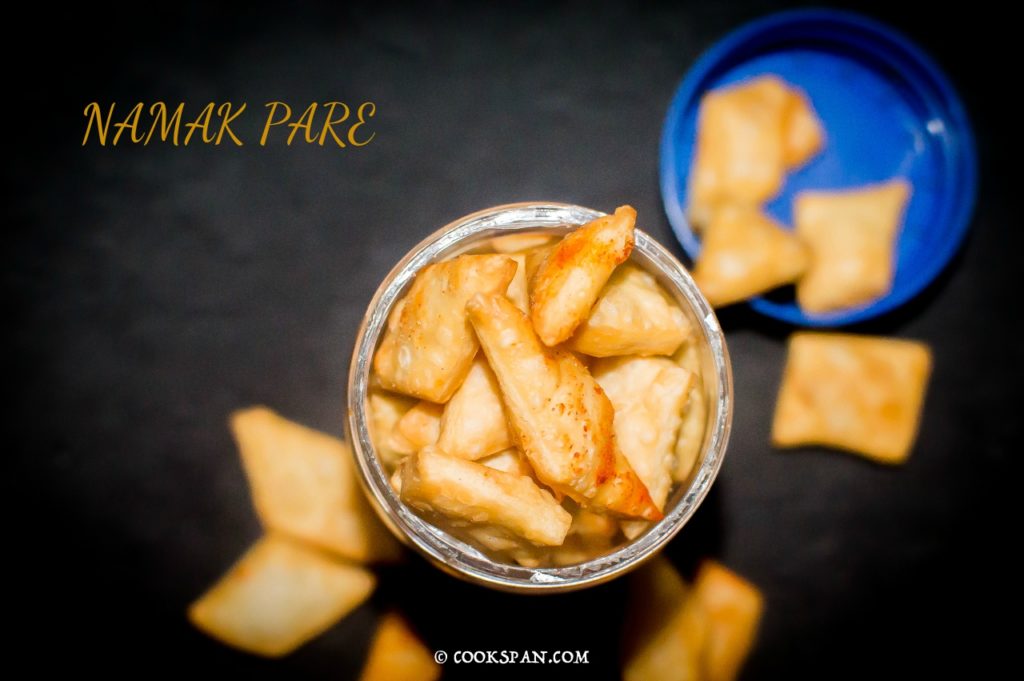 The recipe goes like this:
Ingredients:
All Purpose Flour – 1 cup
Vegetable Oil / clarified butter – 2tbsp
Salt – For seasoning
Red Chili Powder – For seasoning
Vegetable Oil /Clarified Butter – for frying
Steps of Preparation:
Take 1 cup of all purpose flour in a wide bottomed vessel.
Rub the flour along with the clarified butter to bring it to a proper consistency.
Slowly add the water to the flour and knead the dough.
Divide the dough into 2-3 balls and roll into a large round shape.

Dough

Cut the round shaped dough into diamond shape.

Cut into Diamond Shape

Here's a quick video on how to make that cut:


Take a wide bottomed vessel, heat the vegetable oil or clarified butter in it.
Namak Pare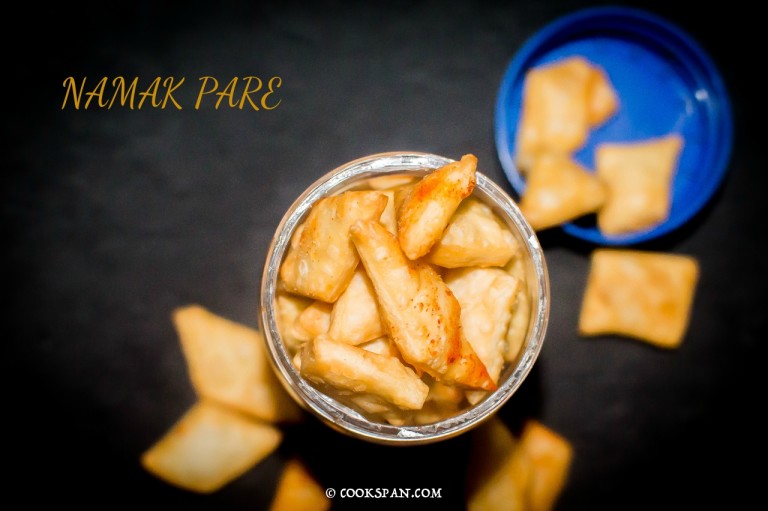 How to make step by step Namak Pare, it's an Indian Tea time fried snacks, flavored with different ingredients.