Aloo Baingan Bharta/Mashed Potato – Brinjal
Office is taking its Toll on me. Every day, it's turning to be a long, long day till 9 pm or more. While returning today I felt like eating something simple. Aloo-Baingan Bharta is one of those every day comfort food, which is a healthy option for your hunger and it's easy and quick to make.
The Aloo – Baingan Bharta recipe goes like this:
Ingredients: 
Baingan/ Eggplant – 1 large
Potatoes – 3 Boiled and Peeled off
Onion -1 finely chopped large sized
Garlic – 1 tsp finely chopped
Tomato – 1 large finely chopped
Green Chilies – 1 finely chopped
Vegetable Oil- 1 tbsp
Salt – According to the taste
Cumin Seeds – 1 tsp
Turmeric – 1 pinch
Cumin Powder – 1tsp
Coriander Powder – 1 tsp
Red chili Powder – 1 tsp
Mash the Smoky roasted Eggplant and the potatoes.
Heat a pan, add the oil to it.
Add the cumin seeds and let it splutter.
Add the Onions and saute it till it's golden brown.
Then add the tomatoes and powdered spices (cumin powder, coriander powder, red chili powder) and saute it till the tomatoes are cooked and spices releases oil.
Cook it for 2-3 minutes and serve it hot with Chapati
Aloo Baingan Bharta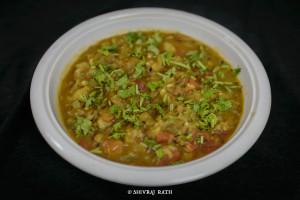 Aloo Baingan Bharta is lightly spiced comfort food which is made out of limited spices and healthy Eggplant. It's a great accomplishment to Chapatis.