Let's play a riddle today. The king of today's dish is neither a vegetable nor a fruit. It's a controversial topic among vegetarian and non-vegetarian. Guess! Guess!
What's the thing we are talking about?
You are right. It's Mushroom!
May it be veg or non-veg. A fruit or a vegetable, I am a crazy fan of it. This is one of my personal favorite dishes. I order it often when I go to restaurants. It's a spicy gravy main course served with either chapatis or rice or pooris. The beauty of this dish is its thick gravy. It is made with different variations in different parts of India based on the availability of  ingredients.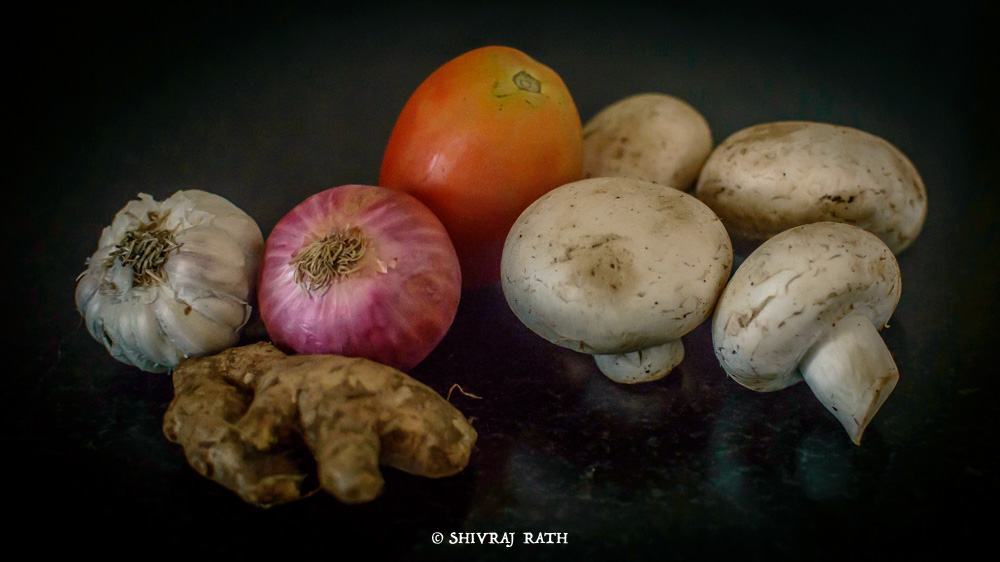 The recipe of the Mushroom Masala goes like this:
Ingredients:
Button Mushroom – 200 gms
Onion – 3 medium sized finely chopped
Garlic – 1 whole
Ginger – 1 inch long
Tomatoes – 2 medium sized
Cumin seeds – 1tsp
Cloves – 3-4 nos
Cardamom – 2-3 nos
Cinnamon – 1 stick
Bay Leaves – 2
Vegetable Oil – 2 tbsp
Turmeric Powder – 1 tsp
Cumin Powder – 2 tsp
Coriander Powder – 2 tsp
Red chili powder – 2 tsp
Green chilies – 1 finely chopped
Coriander leaves -1 tbsp finely chopped
Steps of Preparation:
Peel the garlic cloves and chop the tomatoes and ginger into small pieces.
In a mixer, add the peeled garlic cloves, chopped ginger and tomato.
Add the spices like Cardamom, Cinnamon, Cloves and Bay leaves and grind it into a fine paste adding some water into it.
Cut the mushroom into medium pieces and soak it in water and take it out.  Add a pinch of turmeric powder.
Heat a pan, add the vegetable oil to the pan.
Splutter the cumin seeds to the hot oil.
Add the onion and saute it till it's translucent.
Add the finely ground paste to the pan and add the turmeric powder, salt, coriander powder and cumin powder and cook it.
Cook the spices till the oil separated from the mixture.
Add the cut mushrooms to it.
Extra water is not required to be added as mushroom releases water.
Cook till the mushroom get's softened.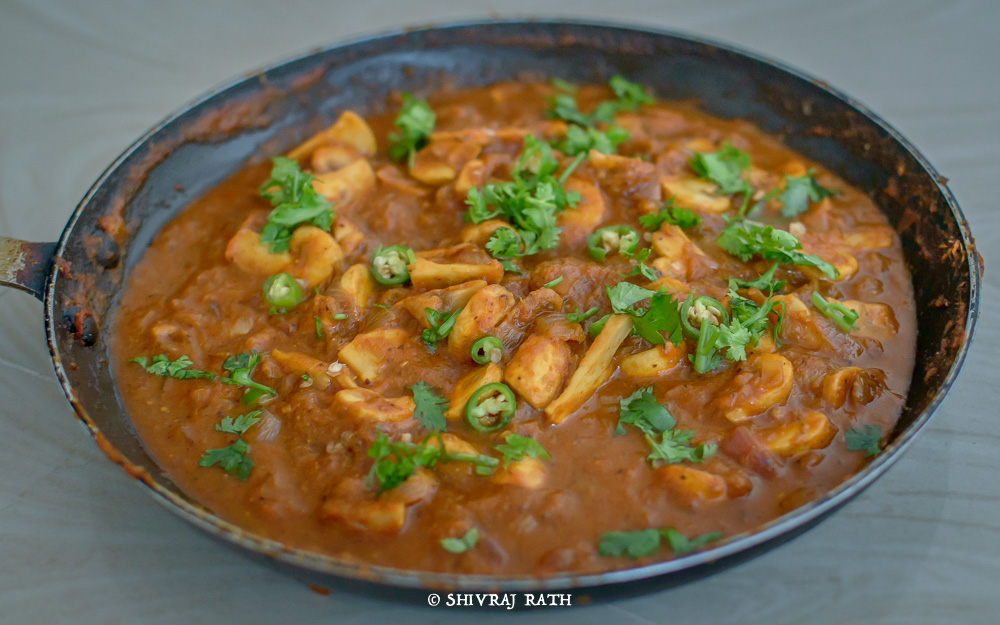 There comes the yummy spice loaded Mushroom Masala for you. Garnish it with the chopped green chilies and finely chopped coriander leaves. The color, odor and taste are going to compel you to salivate.
Mushroom Masala | Spiced Mushroom Gravy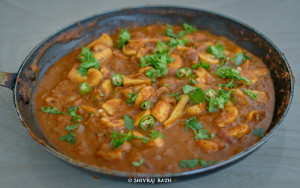 Mushroom Masala a spiced gravy Mushroom. Its texture and flavors perfectly blends with rice or chapatis or pooris.