The rain in the evening almost pulled me back to the childhood memories when guests arrived at home. I could recollect, every turn on the street of Bhubaneswar had amazing roadside food stalls, frying Aloo chop, Bara, Shingada (a.k.a Samosa) with the complementary Ghuguni (Yellow peas curry).
The guest who came down were treated with those mouth watering delicacies. As a kid, I eagerly waited for the guests to come, so that I could get an evening without studies and my taste buds got delicious munchies to satisfy on.
All this nostalgia pulled my eyes towards the residing Urad Daal(Black Grams) in the Kitchen cabinet. I felt like treating my husband with a delightful Sunday morning breakfast in a pure Odiya way: "Bara – Ghugni".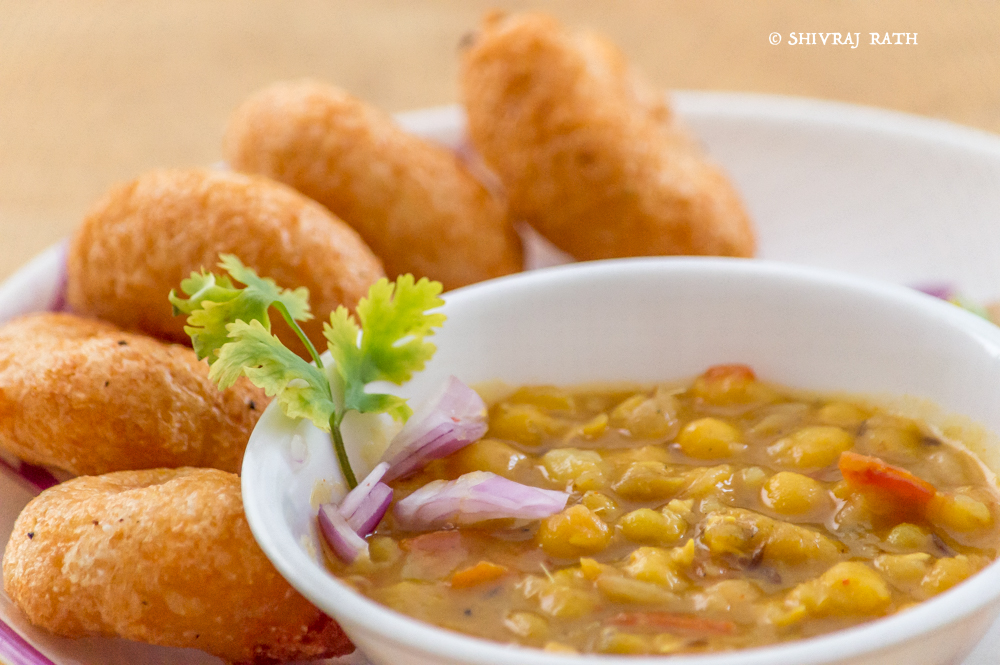 The Bara Ghuguni recipe goes like this:
Urad Daal or Black Grams- 1 Cup
Green Chilies – 2 pieces
Ginger – 2 cm long
Garlic- 3 big cloves
Vegetable Oil – For Deep Frying
Salt – According to the taste
For Ghuguni:
Yellow Peas – 1 cup
Potato – 1 medium sized
Salt – According to the taste
Turmeric Powder – 1 tsp
Onion – 1 Medium Size finely chopped
Ginger – Garlic paste – 1 tbsp
Tomato – 1 Medium sized finely chopped
Cumin Powder – 2 tsp
Coriander Powder – 2 tsp
Garam Masala – 1 tsp
Vegetable Oil – 2 tbsp
Cumin Seeds – 1 tsp
Red Chili Powder – 2 tsp
Bara (Vada) Preparation Steps:
Preparation Time : Overnight / 6 hrs
Cooking Time: 25 mins
Soak the Urad Daal for 6 hrs.
Grind the Urad Daal, Green Chilies, Ginger, Garlic and Salt  to a thicker batter.
After the batter is prepared place the batter outside till it gets fermented.
After the batter is made, deep fry making small balls in a doughnut shape, making a small hole in middle of the Vada.
Fry till it is crisp golden brown.
Ghuguni Preparation Steps:
Preparation Time : Overnight / 6 hrs
Cooking Time: 25 mins
Soak the Yellow peas overnight or for 6 hrs.
Peel off the potatoes and cut into pieces.
Pressure cook the soaked Yellow Peas and Potatoes for 2-3 whistles with a pinch of turmeric powder and 1 tsp salt.
Open the lid of the Pressure cooker after it is cooled down and the gas has been released.
In the meanwhile, Heat a Pan or Kadai with Vegetable oil.
Add the cumin seeds to the heated oil and splutter it for 1 min.
Add the Chopped onions and fry it till golden brown.
Add the Ginger-Garlic Paste and saute till its cooked.
Add all the powdered masalas (Cumin Powder, Coriander Powder, Garam Masala, Red Chili Powder) and saute it.
Add the chopped tomatoes and saute it till the masalas (spices) are cooked and the oil is released.
Now mash the potatoes cooked with the yellow peas and add to the masala. This adds a thickness to the gravy and makes it of great taste as potato goes along with every cooking stuff.
Add salt according to the taste.
Now add some water and let it simmer for 2 mins.
Add the boiled Yellow peas to the masala mix and cook for 2-3 mins with the lid.
Now the Ghuguni is ready, you can garnish with chopped onions and coriander leaves.
Nothing can be more satisfying as this finger licking delightful combo. Try it and serve with some Green chutney or Mango chutney.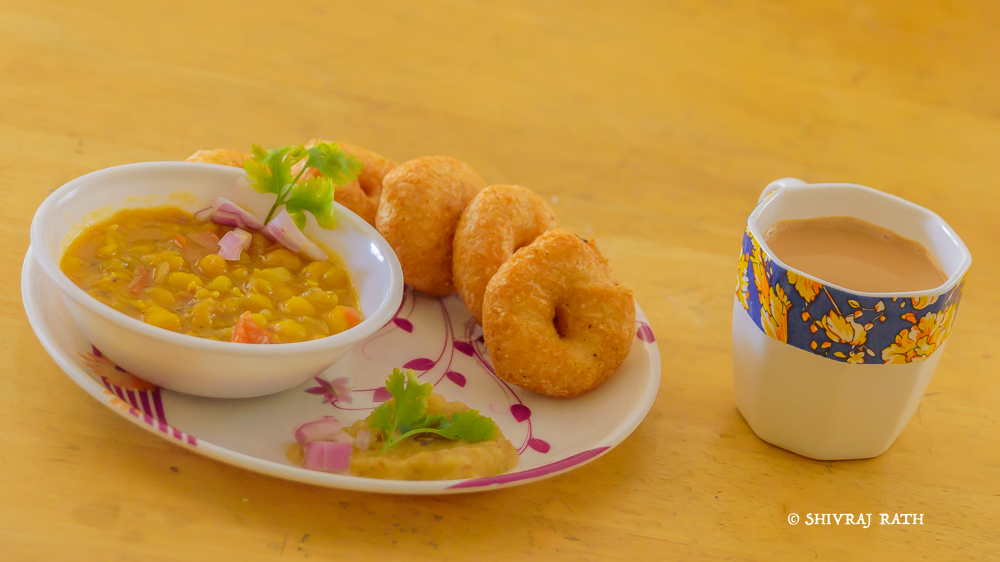 Wait for more yummy and slightly varied recipes.
Cooking is not about following numbers or counting figures. It's about seeing yummy colors, smelling yummy flavors and tasting yummilicious.
Bara Ghuguni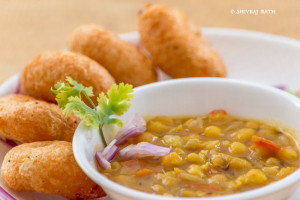 Bara Ghuguni talks about an authentic Odiya snack, that is close to almost every Odia. It is a munchy snack that is loved by all age group.