Snake gourd is a tropical veggie, which is widely used in many Indian kitchen as a summer favorite.  Pura dia Chachindra Bhaja or stuffed Snake Gourd fry is one of Grandma's heirloom recipe. Back in her time when any guests arrived she would make sure to serve at least one stuffed veggie with this chili garlic stuffing. And currently, all her daughters serve this amazing recipe to their guests and I'm also continuing the family legacy.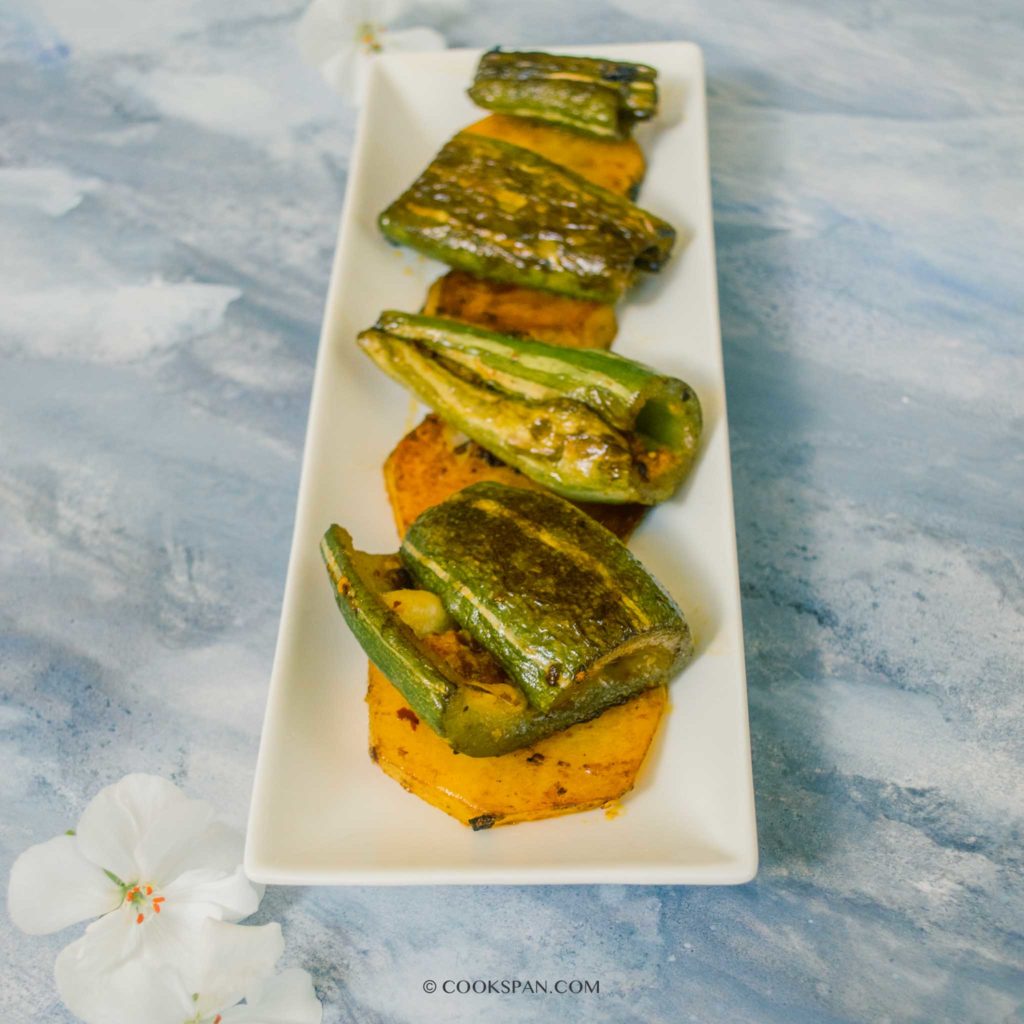 The veggies stuffing enhances the flavor and some times when served with a simple dal it can make an amazing wholesome meal. Without giving any further thought I cooked this dish and as expected we loved this simple dish loaded with spice and flavor to enjoy our Sunday meal.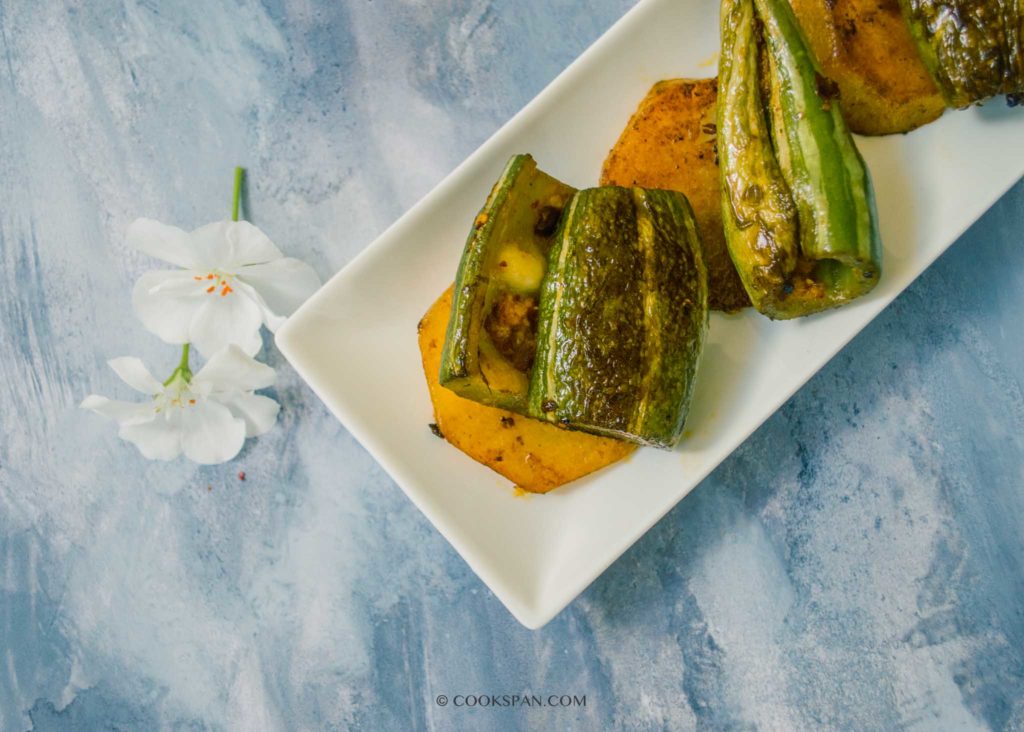 Here goes the recipe for stuffed snake gourd fry:
Ingredients for Pura diya Chachindra Bhaja or Stuffed Snake Gourd fry:
Snake Gourd – 2 nos
Garlic – 6 -8 cloves, medium sized
Dry red chillies – 3-4 nos
Potatoes – 1, cut into thick roundels
Salt – 1 tsp
Mustard Oil (or any choice of vegetable oil) – 2 tbsp
Steps of Preparation for Pura diya Chachindra Bhaja or Stuffed Stuffed Snake Gourd Fry:
Cut the snake gourd into 3 inches long and then make a slit in one of the surface so that you can stuff in the required spice.
Soak the red chilies for 15-20 mins.
Make a course paste out of Garlic and soaked red chilies, add salt to it.

Cut snake gourd and ground masala

Stuff the coarsely ground spice within the slit made in the snake gourd.

Stuffing the coarse paste inside snake gourd

Heat a frying pan with wide bottomed base. Add 2 tbsp mustard oil.

Frying Pan with oil

Add the stuffed snake gourd and cover and cook for 2-3 mins in medium heat.

Adding the stuffed Snake Gourd in the pan

Cover and cook the stuffed snake gourd

Then make sure to turn the stuffed snake gourd and cook for about 2-3 mins.
Next add few potato cut in roundels and cook further. The reason I added potatoes is a small trick my grandma used. As the stuffed veggies have a tendency of oozing out all the stuffed spices at some point of time, these potatoes plays a medium to absorb the spices and prevents the spices from sticking to the pan and getting burnt.

Adding the Potatoes in the pan

After adding potatoes, make sure to cover and cook for 2-3 mins to ensure all the veggies are cooked thoroughly, yet not overcooked.

Almost cooked Veggies
Serve hot with a bowl of Pakhala or Dal-Rice.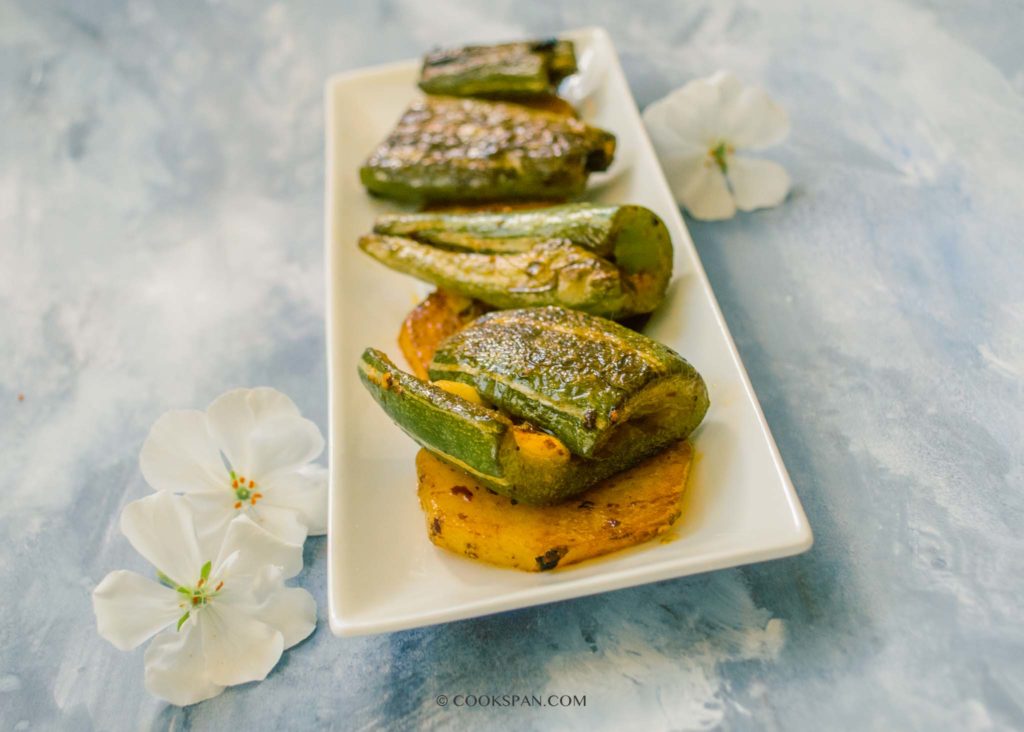 Pura dia Chachindra Bhaja or stuffed Snake Gourd fry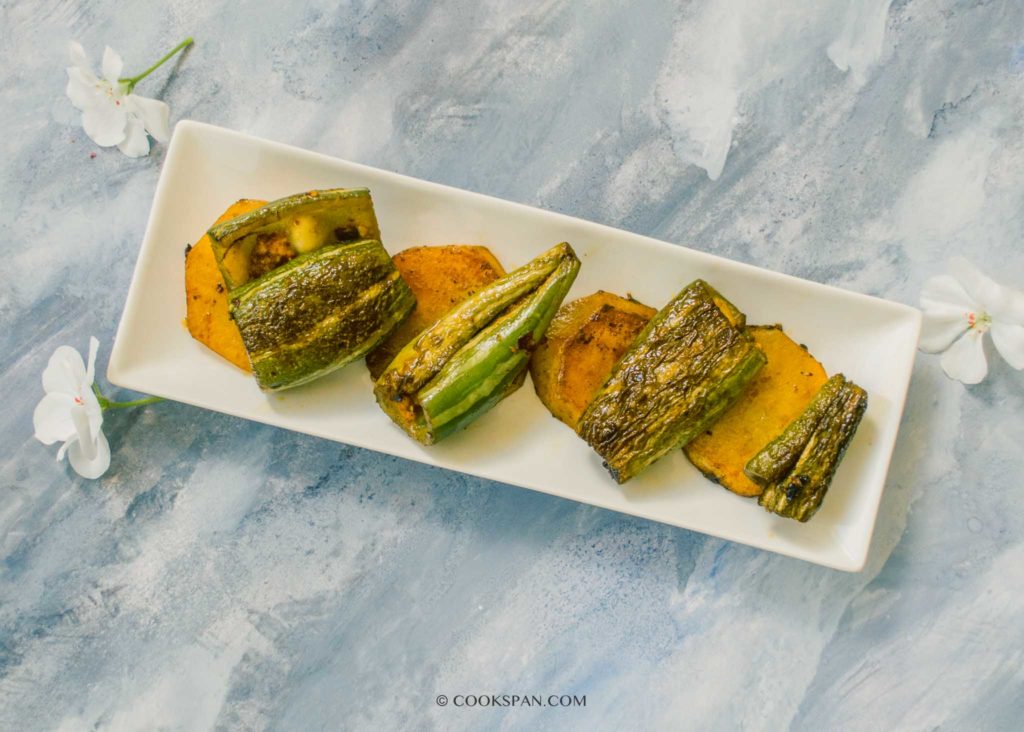 Stuffed Snake Gourd or Gota Chachindra Bhaja is a stir fry made out of Snake gourd stuffed with Chili Garlic and shallow fried in mustard Oil. It's usually a side served with Dal Rice.