During my pregnancy period, my husband was going crazy on me as I was not drinking enough milk. Doctor had emphasized on taking 2 glasses of milk or curd or Paneer. Honestly, I am those kind of crazy kids who would throw the glass of milk to show mom the empty glass. I did this many a times in the childhood and got punished on being caught. However, I love curd in all forms, be it snacks, main-course, side dish and what not!!
This dish is one such dish, that is native to my granny's kitchen. Cooked with Banana stem and Curd, the dish not only gives you comfort, it also aids your digestion and is super healthy . Lately I was reading the book "Indian Super Foods" and came to know that Banana is a super food and is edible in so many ways and form!! But more to that what the author has aided in the book is "Local foods are the super foods", and that really made me realize in the modern day most homes lack the recipes of vegetables like Banana stem. Many people prefer bell-peppers and lettuce over the desi fibre-rich banana stem. But again choosing your platter is your choice and what's important is you get ample of nutrition from whatever you take in, rather than going for empty calories and winning tons of diseases in place of good health.
The book and my mom-made recipes of pregnancy time for my taste bud and health inspired me in recreating the memories with a super platter with this yummy dish of mine i.e. Dahi Manja / Banana Stem Kadhi. So the recipe goes like this:
Ingredients: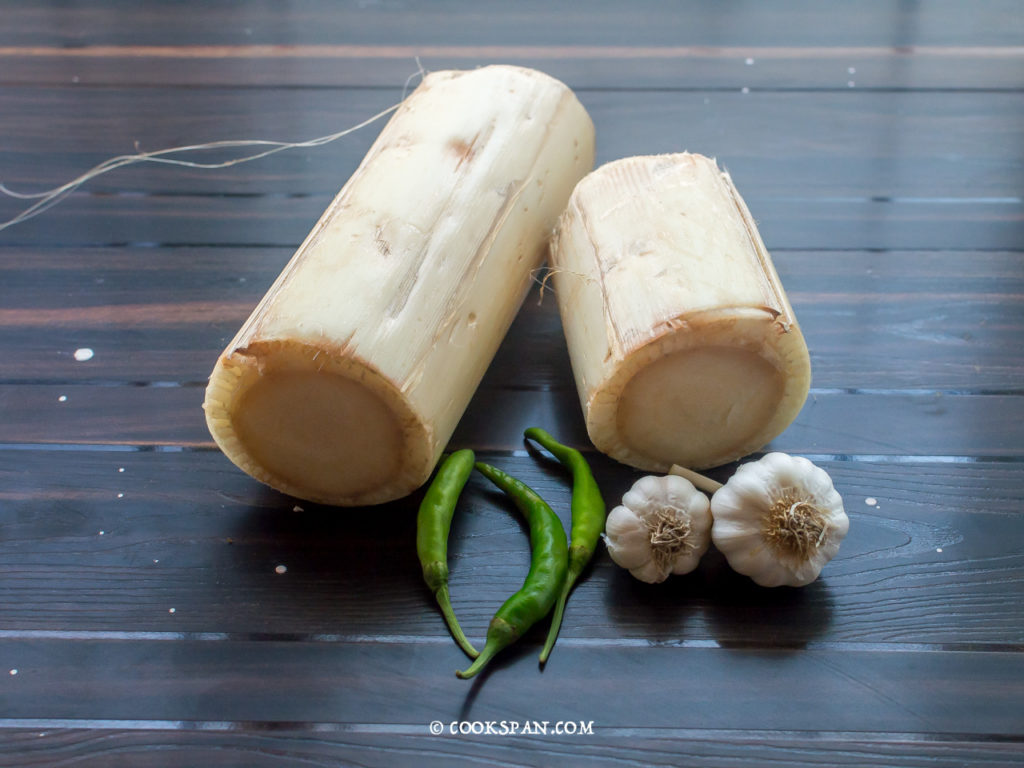 Banana Stem – 1 piece (as per the size available in the market)
Green chillies – 3-4 pieces
Curd  – 500 gm
Chickpea Flour or Besan – 1 tbsp
Mustard Paste – 1 tbsp (It looks more red in the picture due to use of Kashmiri Red chillies)
Garlic Cloves – 8-10 crushed
Curry Leaves – 1-2 sprig
Mustard Seeds – 1 tsp
Turmeric Powder – 1tsp
Salt – according to the taste
Steps of Preparation:
Peel the banana stem in vertical manner and then cut into horizontal round slices. While cutting each slice pull the fibrous strings and throw it.
Then cut the slices into small cubes and keep it soaked in water, else it would lead to browning or blackening of the banana stem cubes.
In a wide bottomed vessel, add two cup of water and a pinch of turmeric powder, salt according to the taste and the banana stem cubes and let it boil for 10mins in a medium flame.

Banana Stem Kadhi Step_3_a

Banana Stem Kadhi Step_3_b

Banana Stem Kadhi Step_3_c

In the mean time, take a bowl add curd to it. To the curd put chickpea flour (besan) and mustard paste and mix it to bring to an uniform consistency.

Adding Chickpea Flour to curd

Add the bowl of mixture to the boiling banana stem. And let the gravy get cooked for 5-10 mins.

Pouring the curd mixture to boiling Veggies

After mixture is properly cooked. Take off the vessel from the flame and put a small pan for tempering.
Once it's heated properly, add the mustard seeds and let it crackle. Once its cooked add the curry leaves, slitted green chillies and crushed garlic cloves and saute it for 2 minutes.

Adding the Curry Leaves and Green Chillies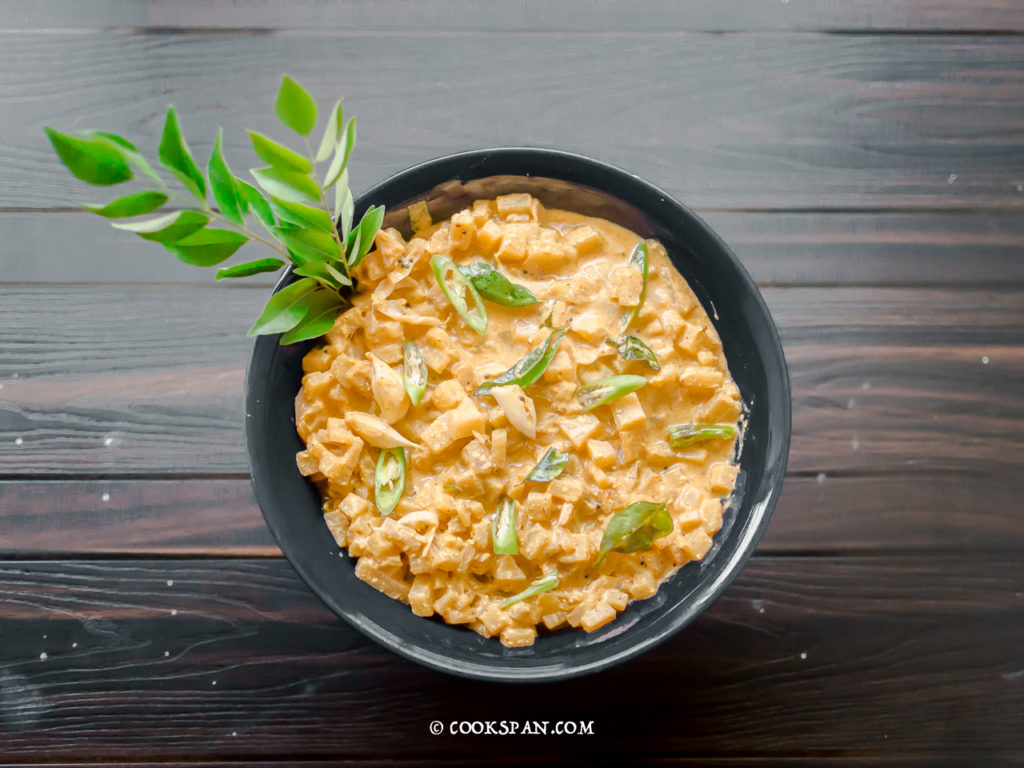 Easy to make and healthy banana stem kadhi is ready. Serve it with a plain rice as a main course or make a drier version to serve it as a sour side dish in any kind of Indian Platter.

Dahi Manja or Banana Stem Kadhi or Banana Stem cooked in Mustard flavored Yogurt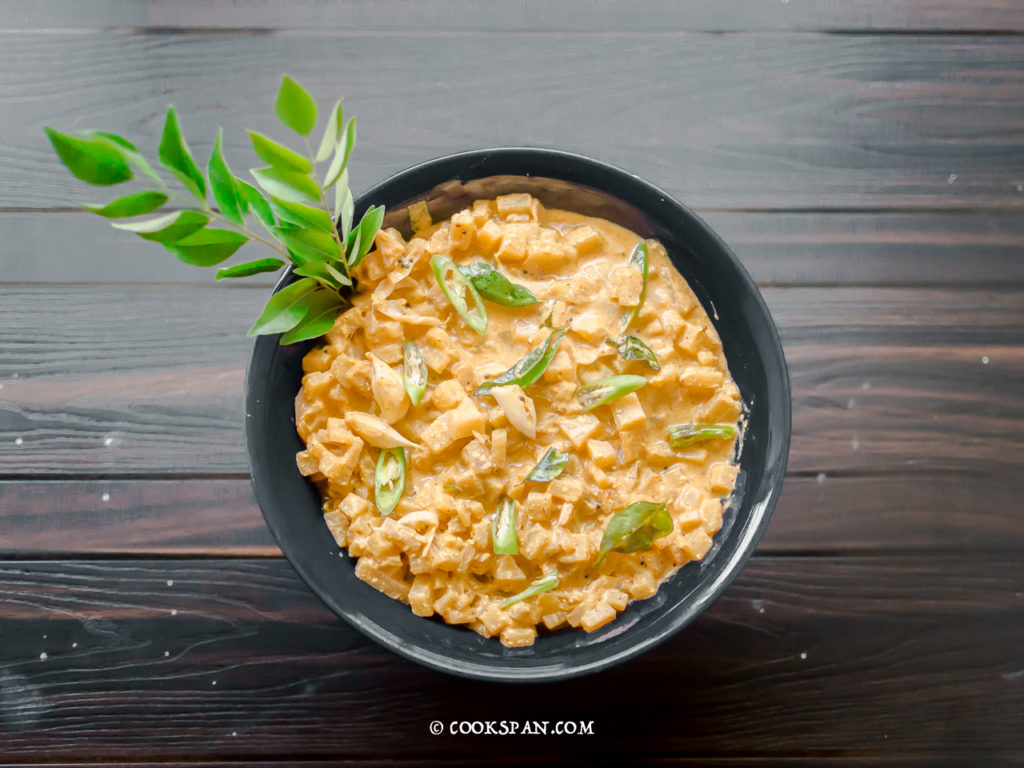 How to make step by step dahi manja. The recipe is a delicacy from Odisha and is served with Plain rice or a rice platter.