Relocations are never easy. I know I have been creeping a million times these days. But my hubby keeps telling, hard times are the moments to cherish in the future. Gathering positivity I woke up to this lovely place in Seattle. It has natural beauty in abundance and sometimes it's really enchanting to be drenched in this feeble Spring rain and walk to places. The little one has somehow managed well to cope up with the change. And after the vessels and equipments have arrived, my cooking routine is finally looking to be in order.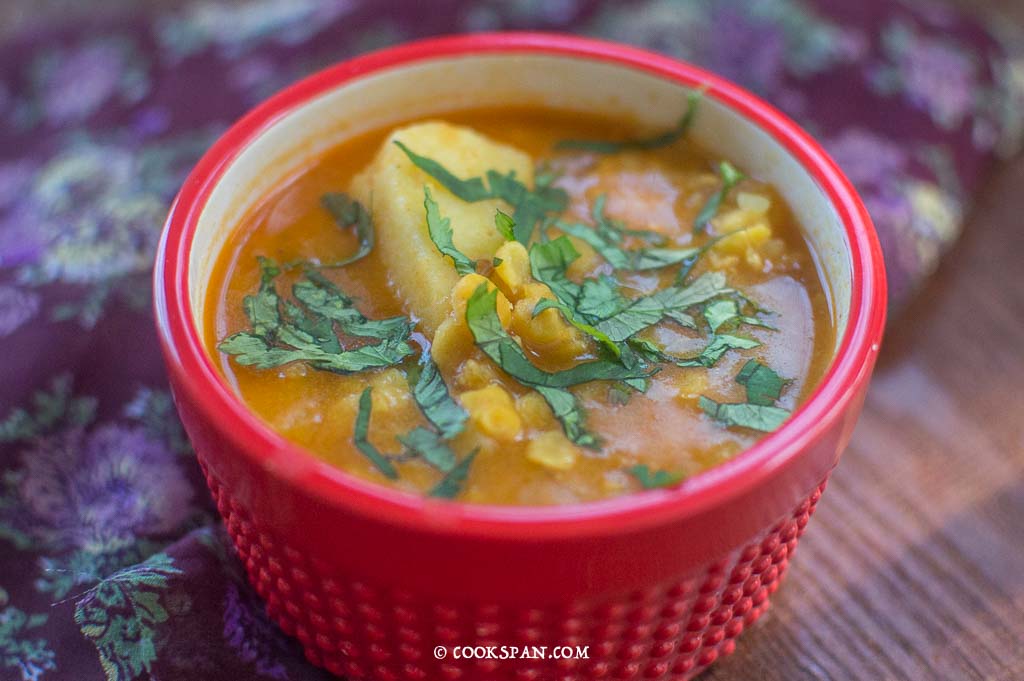 The toughest part about relocating 2200 miles in this country was to stay without the household things for almost a month. The tiny little fella was really confused with this transition, wondering if it is an outing trip. He always seemed to be wanting to go back home and meeting his friends. Though we were eating home cooked meals in hotels as well, but something that truly makes you feel home is definitely the daily staple of home cooked and devoured in pride. And one such staple in my home or every Odia home is "DALMA". To me Dalma is variety, Dalma is nutrition, Dalma is pride and Dalma is comfort. I can eat Dalma anytime from the breakfast to the dinner and even snack it on a small bowl.
It's no fancy cooking. But it is definitely something I have known from birth and something which has become part of my daily life. Sometimes, I feel this dish is underrated, however, it is a power packed one pot dish made up of a variety of lentil giving you daily dose of protein with a range of veggies and root vegetables giving ample of vitamins and minerals with starch and the tadka from ghee are a good drizzle of good fat to make you full.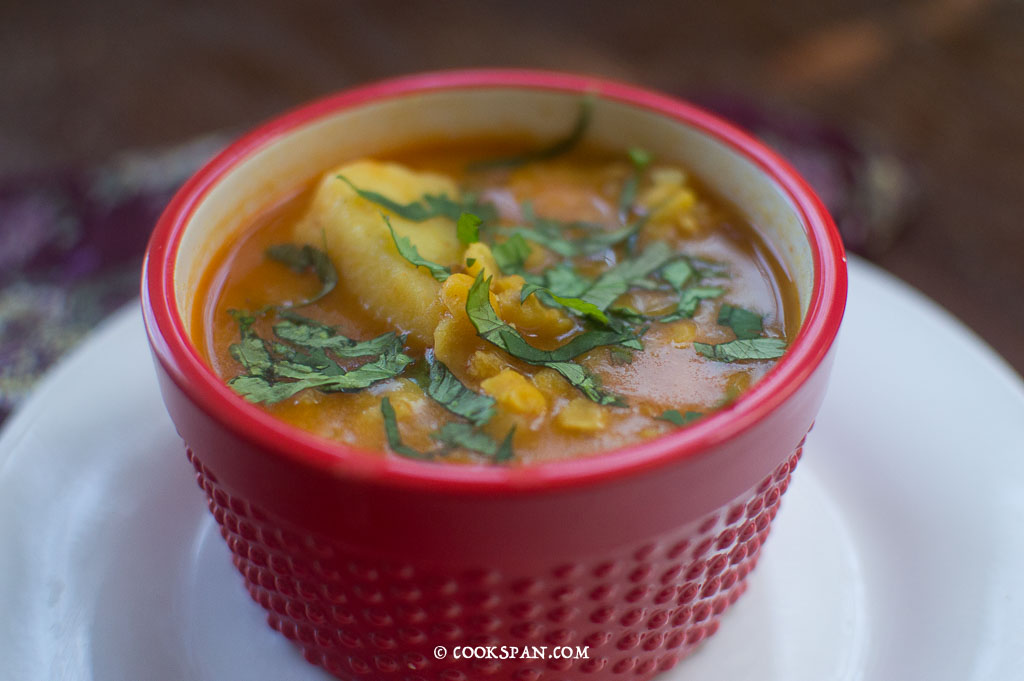 Today, I am making no Onion no Garlic version of Dalma, so I won't be tempering with the signature phutana (as it contains nigella seeds or onion seeds) rather I would temper it with the humble cumin seeds. But I promise to bring tons of Dalma recipes with lots of variations.
Here goes the recipe for Buta Dali Dalma:
Ingredients:
Buta Dali or Channa Dal or Gram Dal – 1/2 cup
Pumpkin , cubed – 1 cup
Potatoes, cubed – 1 cup
Bay Leaves –  1
Green Chillies – 2 whole, slited
Green Cardamom – 2
Cinnamon – 1 stick
Cloves – 2
Ginger – 1 inch, grated
Cumin seeds – 1 tsp
Cumin Powder – 1 tsp
Coriander Powder – 1 tsp
Red chilli Powder – 1 tsp
Turmeric Powder – 1/2 tsp
Tomato – 1 large, chopped
Salt – according to taste
Ghee or Clarified butter – 1 tbsp
Water – 2 cups
Steps of Preparation:
Soak the Buta Dali or Channa Dal for 30 mins before cooking.

Channa Dal – 1/2 cup

Soaking Channa Dal

Cut the pumpkin and potatoes to medium sized cubes.
Take a pressure cooker and heat in the medium flame.
Add the ghee or clarified butter to the pressure cooker and once melted, add the whole garam masala(bay leaves, cardamom, cinnamon and cloves)  and green chillies to it.

Adding the whole spices

Add the cumin seeds and grated ginger. Once the ginger is cooked for half a minute add the tomatoes and cook it until all the water dries off.

Adding cumin seeds

Adding Grated Ginger

Tomatoes are added

Then add the ground masalas (cumin powder, coriander powder, turmeric powder and salt) and cook it for a minute.

Addition of powdered spices(cumin powder, coriander powder, Turmeric Powder, Red Chili Powder and Salt)

Cooked Masala

To the cooked masala, add the veggies and lentil and saute.

Pumpkin and Potatoes are added

Adding the soaked channa Dal

Mixing everything properly

Then add 2 cups of water and cook for 2-3 whistles.

Add 2 cups of water

Pressure cook for 2-3 whistles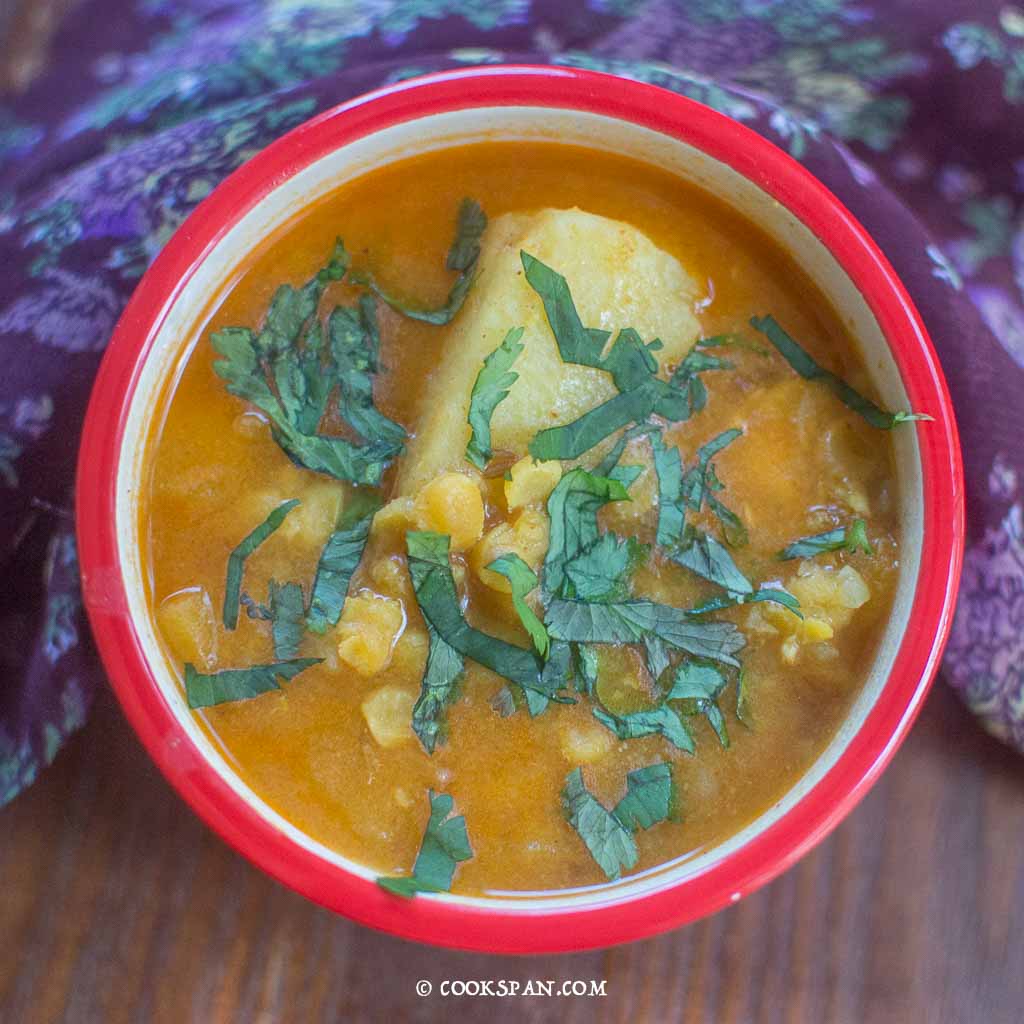 Once the steam is released enjoy it with steamed rice or rotis or parathas.

No Onion no garlic Buta Dali "Dalma" or Lentil Veggie Soup the Odia way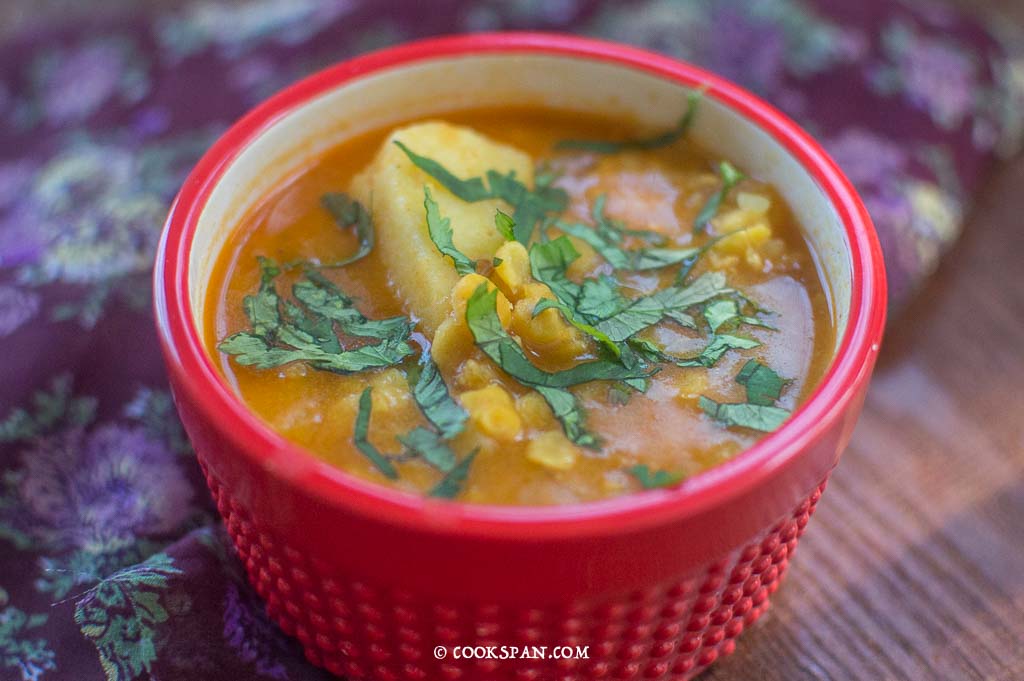 Dalma is a staple Odia dish, where the lentils and seasonal vegetables cooked together and later tempered with ghee and cumin or oil and panch phoran. Some varieties even have little shrimps and some have fish head to enhance the flavor. But this version of mine is no Onion no Garlic.