Lauki or Bottle Gourd is a very healthy vegetable with 96 % water content. This is a must for the summers. I love this veggie in any format. The Lauki Channa Dal was a family favorite until I made this creamy North Indian Delight of Lauki Kofta cooked in onion, tomatoes and cashew gravy. I had heard of this dish from all my North Indian friends. Though Lauki was a regular veggie in my family I never cooked it this way. Last weekend I was left with half of Lauki and no other veggie. So to fulfill the weekend special demand of both the boys I made Lauki Kofta in Cashew nut Gravy recipe with ghee smeared Rotis and some cucumber Raita.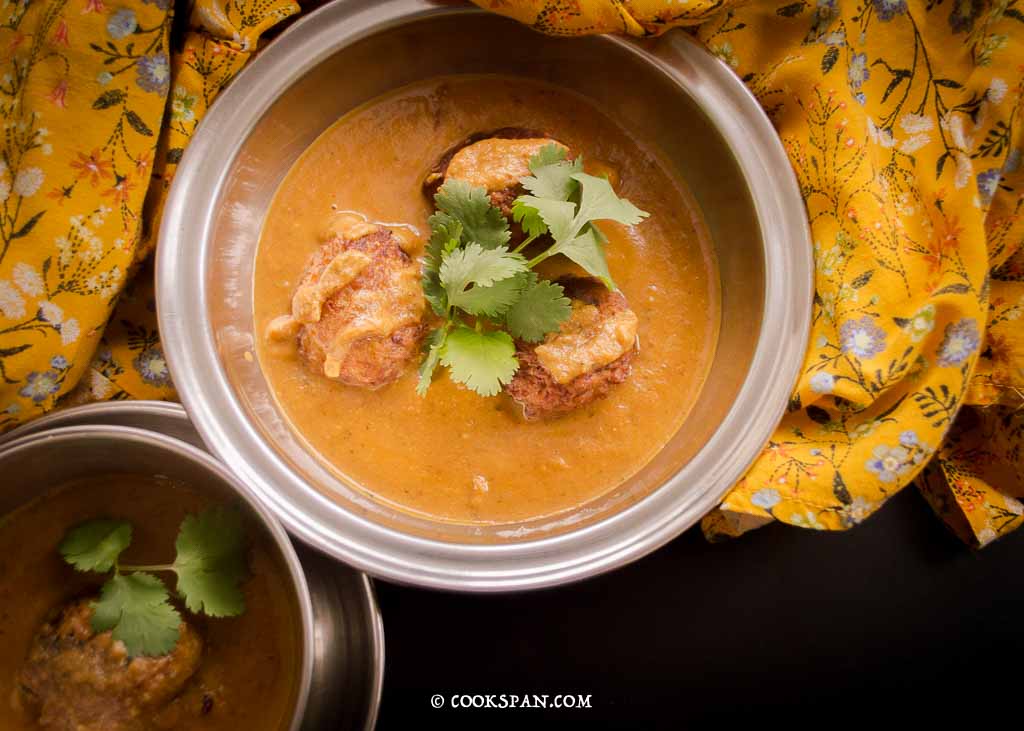 Lauki ka Kofta is a flavorful, creamy gravy dish which you can serve for your parties and have it on special occasions.
Here goes the recipe of Lauki Kofta in Creamy Cashew nut Gravy:
Ingredients for Lauki Kofta in Cashew nut Gravy:
For the Kofta:
Bottle Gourd – 1 and 1/2 cups, grated
Gram Flour or Besan – 4 tbsp
Red Chili Powder -1 tsp
Coriander Powder – 1 tsp
Cumin Powder – 1 tsp
Turmeric Powder – 1 pinch
Salt – according to taste
Canola Oil – for deep frying
For the Gravy:
Onions – 3/4 cup, finely chopped
Tomatoes – 1 cup, cubed or chopped
Ginger Garlic Paste – 1 tsp
Oil – 2 tbsp
Cumin seeds – 1 tsp
Cashew nuts – 1/4 cup
Red Chili Powder – 1 tsp
Coriander Powder – 1 tsp
Cumin Powder – 1 tsp
Kasuri Methi – 1 tsp
Turmeric  Powder – 1 tsp
Salt – according to taste
Sugar – 1/2 tsp
Steps of Preparation for the Lauki Kofta in Cashew nut Gravy:
Preparing Koftas:
Grate the Lauki or Bottle Gourd finely. Squeeze out excess water and reserve the water for using it later for the gravy.

Grated Lauki or Bottle Gourd

Squeezing the excess water

To the Lauki, add the gram flour and all the dry powdered masalas (turmeric powder, cumin powder, coriander powder, salt) and mix uniformly.

Lauki with Gram Flour and Powdered Spices

Gently form round balls and keep aside.
Take a Kadhai or wok and heat the oil, then fry the balls until golden brown.

Add the Lauki balls for frying

Fry till golden brown

Strain out the excess oil and keep aside the Koftas to be dunked into the gravy.

Fried Koftas
Preparing the Gravy:
Heat a pan with oil (I used canola oil).
Add the cumin seeds to the oil and let it splutter.

Cumin Tempering

Then add the chopped onions and fry till softened.

Adding the Onions

Add the Ginger Garlic paste and cook till the raw smell goes off.

Ginger Garlic Paste added

Tomatoes are further added and cooked till the water is dried up.

Adding Tomatoes

Then add the cashew nuts and saute for a minute and let it cool.

Adding Cashew nuts

Cooked Masalas for the gravy

Make a fine paste with the cooked onions, tomatoes and cashews.

Making a paste of cooked onions, tomatoes and cashews

Heat the same pan, add a teaspoon of oil and the ground paste and then add the powdered spices (cumin powder, coriander powder, red chili powder, turmeric powder and salt).

Adding a tsp of oil

Adding powdered spices to the gravy

Saute and cook the gravy. Add the squeezed out water from bottle gourd, you can add an additional amount of water based on the gravy consistency you are looking for. Let it simmer for a minute or two.
Crush the Kasuri Methi and add to the simmering gravy to add more flavors.

Adding Kasuri Methi

Add the Koftas to the gravy and serve or you can directly add the koftas while serving.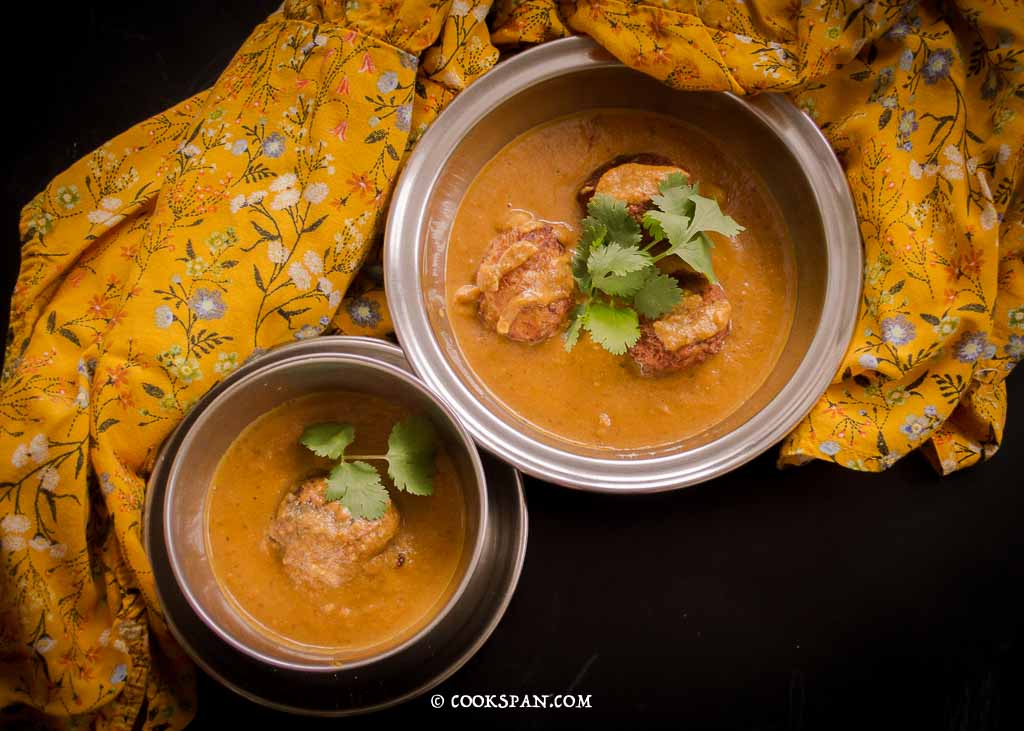 Lauki Kofta in Cashew nut Gravy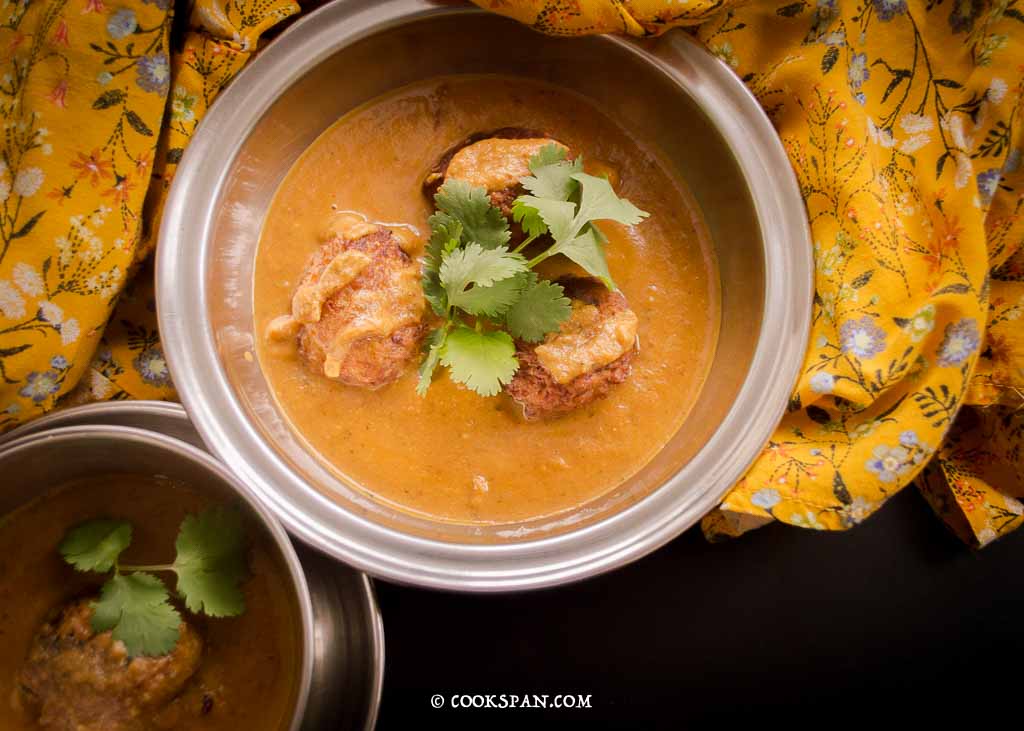 Lauki Kofta in Cashew nut Gravy is a rich curry cooked with Bottle Gourd balls in the cashew nut gravy and enjoyed with Indian Flat breads like Naan, Rotis or Paratha.